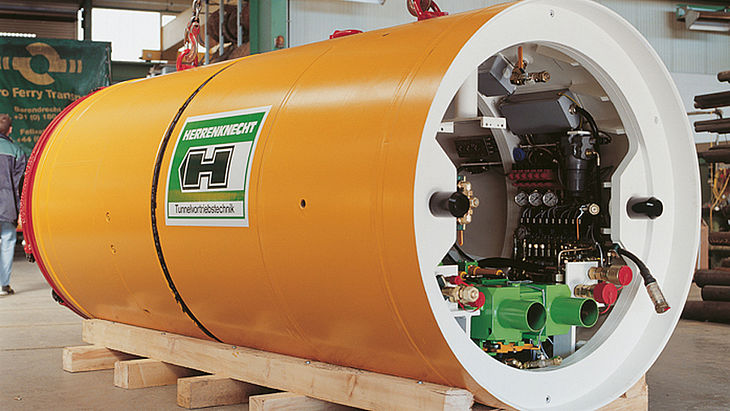 Table Rock State National Park
A 150-meter-long pipeline needed to be driven deep under the Table Rock Lake, in the Table Rock State National Park, South Carolina, as a fresh water intake. The pipeline was driven from the shore in the direction of the lake, with a difference in altitude of 50mm per drilled meter. The goal was the target shaft sunk 30 meters below water level in the lake. The construction of shafts under these conditions in open water is extremely complex and expensive. For this reason, the shaft diameter was to be as small as possible. Abrasive rock, with levels of hardness of up to 150MPa, and the precise crossing under the dam were a real test of strength for the machine and its cutting tools.
Herrenknecht engineers built an AVN1200TC as a multi-divisible articulation shield and machine can in order to be able to recover the machine from the small-diameter target shaft. With this, it was possible to reduce the longest machine part from 3.22 meters to only 1.4 meters. Therefore, a shaft inner diameter of a mere 2.36 meters was sufficient for the recovery of the machine parts. During the course of tunnelling, the disc cutters had to be replaced several times. Service time could be minimized because the AVN1200TC was equipped with an excavation chamber, that could be accessed from within the machine. The project was finished within the time schedule and became a success for all members of the team.