HDD Rigs in operation
With horizontal directional drilling rigs from Herrenknecht, pipelines can be installed under rivers and infrastructures quickly, economically and with minimal impact on the environment. Examples of pipeline applications include the transport of oil, gas or wastewater as well as district heating, high-voltage power lines, cable bundles for telecommunications and much more. HDD Rigs are versatile and are mainly used in stable loose soils and consolidated rock.
Simple but functional
With HDD (Horizontal Directional Drilling), pipelines are installed in three steps. First, the HDD rig bores a pilot hole from the launch point toward the reception point. The rotating drill rods are precisely guided along the planned alignment by a surveying system directly behind the drill bit. During drilling, mud pumps convey a bentonite suspension directly to the nozzles attached un the drill bit. In soft geologies, the soil is excavated hydraulically at high pressure. In rock drilling, excavation is carried out mechanically using a mud motor. The bentonite mixes with the excavated material and flows back to the starting point through the annular gap between the drill rods and the borehole wall. A separation plant separates liquid and solid components from each other and returns the treated suspension to the bentonite circuit.
The pilot bore is followed in a second step by reaming. After exiting at the reception point, the pilot drill gear including the surveying system is removed and replaced by a reamer. With cutting tools and bentonite nozzles, the soil is removed both hydraulically and mechanically when the drill string is pulled back. The water-bentonite mixture supports the enlarged borehole, removes the soil and simultaneously cools all components. Reaming is usually performed in several passes until the final borehole diameter is achieved. This is about 30 to 50 percent larger than the pipeline diameter. In a third step, the pipeline is inserted. The prefabricated pipeline is connected to the drill string. Lifting the front end creates a so-called overbend and the entry angle of the pipeline is adjusted to the exit angle of the borehole. At the same time, falling below the minimum bending radius is prevented. Behind a reamer and a swivel joint, the pipeline is pulled back to the entry point by the HDD Rig to its final position. During this process, bentonite minimizes friction between the pipe casing and the soil.
Operating principle at a glance:
The right rig for the job
HDD Rigs developed by Herrenknecht can be delivered in five different standard configurations. All models have a control cabin, as well as their own power supply pack powered by a diesel or electrical engine, in sound-insulated container or onboard. Depending on the application, the attached power packs have an output ranging from 328 to more than 940 kilowatts and is engineered to the customer's requirements.
Frame-Rig: Their low dead weight and ease of transport make Frame Rigs a reliable and cost-effective solution. Without its own transport system, the Frame Rig reaches the jobsite on a regular truck trailer. A standard crane is sufficient for loading, unloading and alignment on the jobsite.
Trailer Rig: The great advantage of Trailer Rigs is their high degree of flexibility. Designed with weight reduction in mind, they can be transported by standard semi-trailer trucks. A crane is not required either for rig up and rig down nor for alignment and commissioning. This makes Trailer Rigs particularly suitable for projects where long distances are covered and multiple sections are drilled.
Crawler Rig: Crawler Rigs offer significant advantages on jobsites in rough terrain not accessible for trucks or cranes. The robust and flexibly maneuverable caterpillar tracks allow full autonomous mobility and maneuverability in difficult terrain.
Modular Rig: To be able to use HDD Rigs in remote regions, Herrenknecht has developed an innovative solution. Modular Rigs can be disassembled into two or three modules and transported in standardized containers. The modules are reconnected on site. An optional, remote-controlled crawler provides for mobility on the jobsite.
Compact Rig: Compact and maneuverable rig for smaller projects and inner-city applications. For shorter drill rods (range 1 - 6 m/20 ft), optionally equipped with an onboard control cabin and a high pressure mud pump, this flexible rig meets all customer requirements, especially in confined spaces.
Complete HDD system as well as the associated equipment with electric drive possible - with only one power source

All advantages at a glance:
Only one common power source required

Reduced overall fuel consumption

Low-noise operation

Lower emissions

Plug and play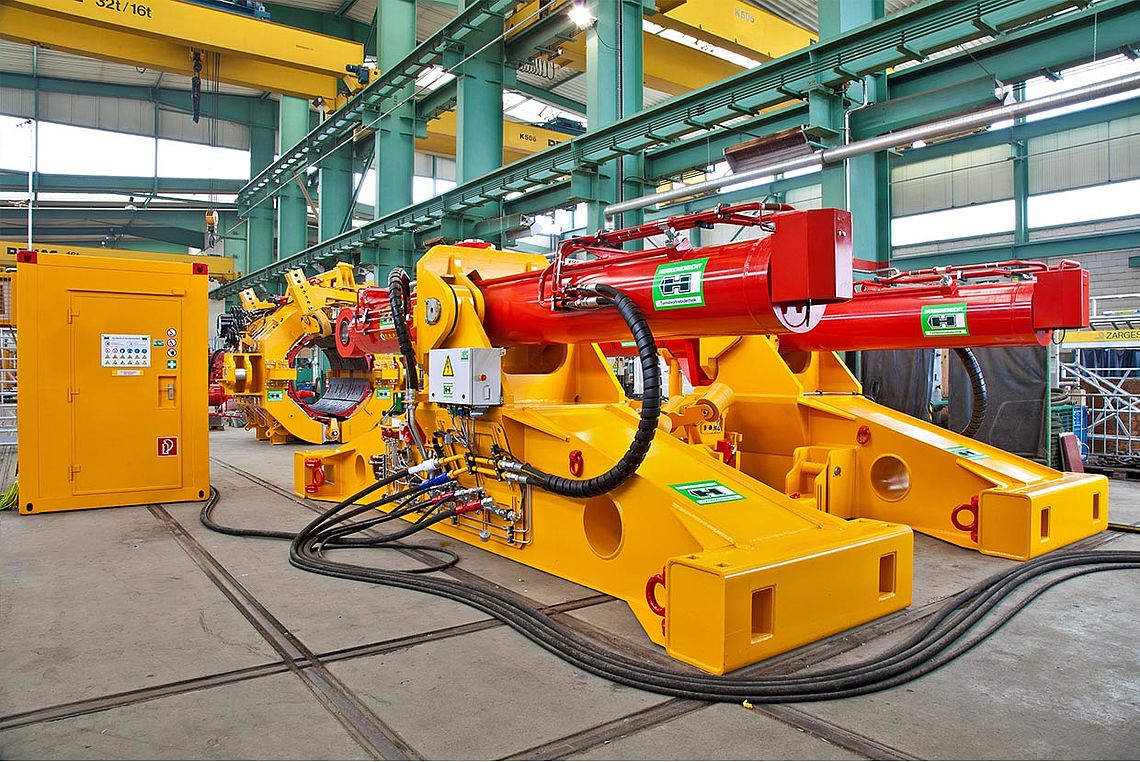 Pipe Thruster
Extra thrust during pipeline insertion of up to 750 t
Detailed information on the website or on request
To the product page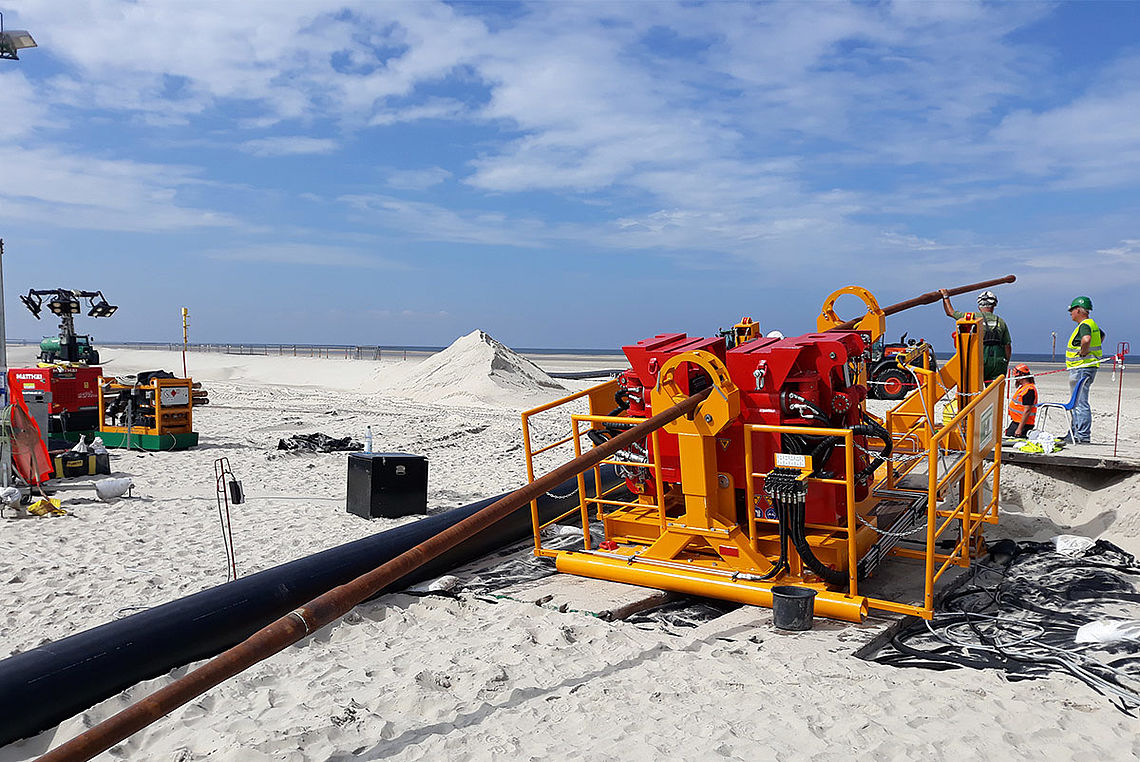 Pipe Handling
Mobile screw unit
Mobile break-out unit
Rod crane
Tooling
Full Face Hole Opener
Downhole Jet Pump
Weeper Subs
Special solutions for special projects
In cooperation with our sales and specialist departments, customized solutions can be developed to meet any challenge you may have. Simply ask one of our contact persons for more information. Project example: Modular Crawler Rig for transport in sea containers.
Still got questions?
We are ready!
Steffen Dubé
President and General Manager Herrenknecht Tunnelling Systems USA Inc.
Gerhard Goisser
Commercial Manager Herrenknecht Tunnelling Systems USA, Inc.