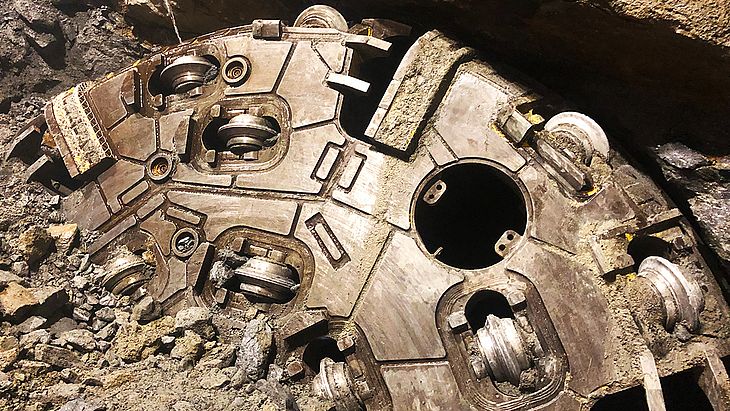 Limberg III
Tunneling with a 42° incline through rock requires experienced and courageous tunnelers and special safety features of the next cycle of technology on the TBM: The Herrenknecht Gripper TBM (Ø 5,800mm) for the Limberg III hydropower project in Austria has a twin anti-slip system with full redundancy of the gripper levels. This decisively increases safety for man, machine and structure: In every operating condition (advance, standstill or regripping), at least two out of three gripper systems are always independently - and thus absolutely safely - braced in the mountain. Backsliding of the system can be reliably prevented. The fall-back safety devices operate mechanically according to the principle of a self-inhibiting knuckle lever (automatic mechanical wedging). This ensures the necessary bracing of the machine in the mountain even in the event of a failure of the power supply and hydraulic systems.
The disc cutters of the cutterhead can be changed from the rear. This increases safety for the miners, who do not have to work in front of the unsecured tunnel face.
For the new Limberg III pumped storage power plant, the tunnel builders in Kaprun employ the Herrenknecht Gripper TBM to bore an 730-meter long pressure shaft from May 2022 until successful breakthrough in October 2022.