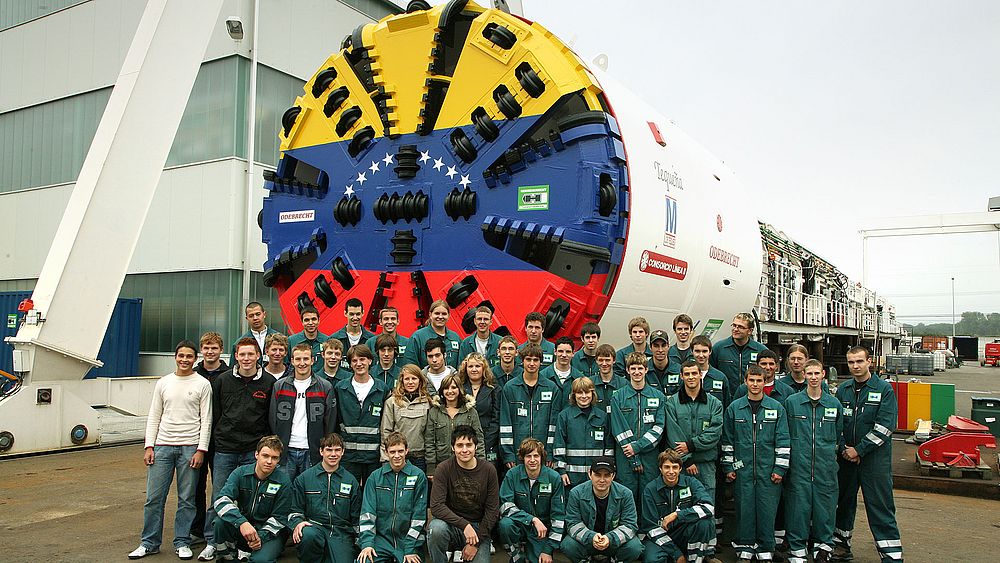 57 new trainees and cooperative education students start working with Herrenknecht
In September and October 2007, 57 young women and men start their careers doing an apprenticeship or cooperative education program with Herrenknecht AG. Currently, Herrenknecht trains a total of 137 junior employees. Compared with last year, this represents an increase of more than 20 %. For Herrenknecht, recruiting trainees and cooperative education students has proven to be a reliable solution in order to shape prospective qualified labor for the industrial, technical and administrative divisions of the company. Herrenknecht offers interesting perspectives to the junior employees in an innovative and future-proof technological environment.
September 10th, 2007. During the new educational year, Herrenknecht has increased the number of training positions considerably. In September and October, 57 adolescents start their career, which means 23 more than a year before. 134 adolescents (previous year: 111) are currently receiving professional training at Herrenknecht AG, including 91 trainees in the industrial and 31 in the administrative and technical division. 12 high-school seniors are participating in the cooperative educational program at Herrenknecht AG, most of them majoring in business administration. Three other junior employees were able to obtain training positions in the industrial division of the recently founded subsidiary Herrenknecht Formwork Technology GmbH.

The educational program in the industrial divsion is based on four pillars. Vocational schools provide theoretical knowledge. At the state-of-the-art training workshop, four experienced educational specialists and foremen are in charge of the practical training at Herrenknecht, aiming to bring the future electro-mechanics, electricians, industrial or construction mechanics to a top level in mechanical engineering. During everyday business in the various departments, acquired knowledge can be deepened and expanded.

During the educational year 2007 / 2008, in-house classes are offered for the first time. In addition to the expansion of academic knowledge in the field of mathematics or economics, the curriculum also includes subjects such as work safety. Additional English classes contribute to train junior employees on the requirements of a globally operating business.
The prospective industrial sales management assistants and cooperative education students work in the most diverse divisions of the company, including supply management, finance and accounting, project management and marketing. Whereas, technical draftsmen and IT specialists are exlusively trained in the design and IT departments.

Training junior employees is a key element for Herrenknecht AG in order to meet the increasing demand for highly qualified staff. A specially developed bonus system offers additional motivation, awarding good to very good educational performances with up to two additional monthly salaries per year. This year, technical draftsman Christian Schmidt achieved a top performance by taking the final exam half a year earlier than scheduled and earning a grade point (A) average.

Trainees and cooperative students, achieving positive results, always stand a good chance of being re-employed by Herrenknecht after the completion of their professional training. Re-employing junior employees allowed the company to cover the dramatically increasing demand for personnel of the last few years. Interesting advanced educational programs are offered to junior employees; which include language courses, foreman / technician and draftsman programs or graduate engineering programs. 14 former trainees and cooperative students are currently participating in programs in order to obtain a substantiative further education.