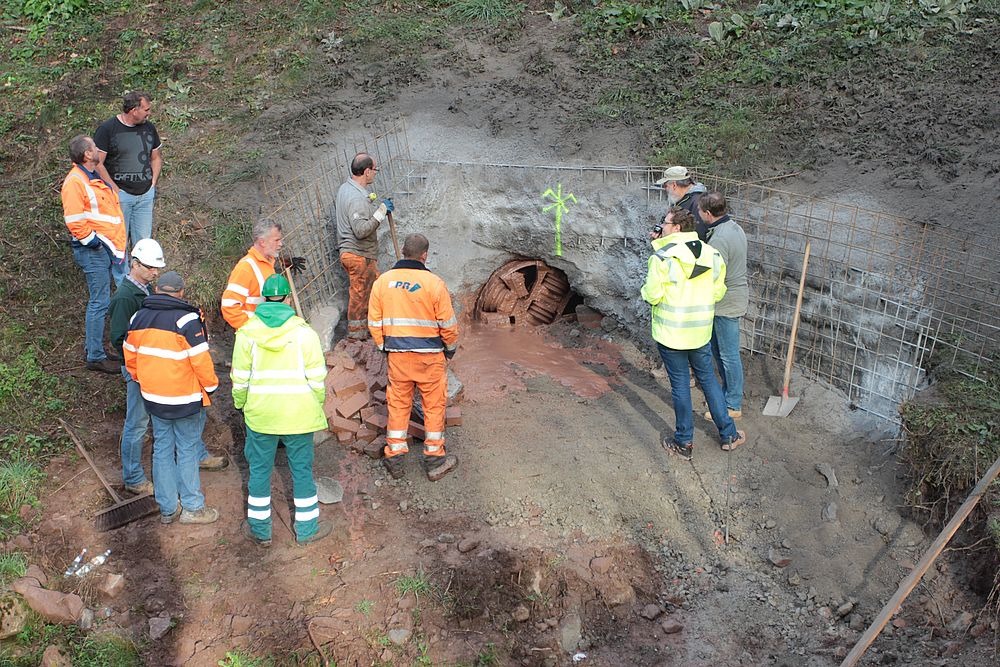 AVN machine builds drainage channel in Freudenstadt
Where cities grow, the infrastructure has to keep up. In the Black Forest town Freudenstadt, a drainage channel has been created in the new residential area "Sonnenhalde Süd". A Herrenknecht AVN machine was used to integrate the nearby Manbach stream into the stormwater concept.
February 27, 2018
Freudenstadt, Germany / Schwanau, Germany
.
In Freudenstadt's new residential area "Sonnenhalde Süd", a drainage channel for excess rainwater has been created using the Herrenknecht machine M-2176M (Ø 1,100 mm). The specialist company Peter + Partner Rohrvortrieb completed the construction project on behalf of the city of Freudenstadt (southern Germany). Over a distance of 146 meters, several tracks had to be crossed under, because the nearby Manbach stream is separated from the new residential area by the main train station. A gradient of 4.5%, was an additional challenge.
The 75kW machine crossed through so-called talus material consisting mainly of layered red sandstone. The AVN800XC tunnel borer with a mixed cutterhead is suitable for heterogeneous soils and, with its slurry-supported excavation concept, can be used for safe tunnelling in ground conditions of all kinds. The tunnel was lined with 3-meter-long reinforced concrete jacking pipes (DN 800, DA 1100). After 3 weeks of tunnelling, the Herrenknecht machine reached its destination at the foot of a slope in late October and was lifted out of the excavation pit by a mobile crane.
Precipitation can now be discharged via the municipal storm sewer system into the Manbach drainage channel. Thereto end the rainwater is first passed into the locally erected stormwater holding tank and released into the channel at a slower pace if necessary. With the completion of the construction project, the sewage network in Freudenstadt was thus expanded appropriately and adapted to the needs of a growing city.
Machine data M-2176M
Machine type: AVN800XC
Excavation diameter: 1,100 mm
Max. torque: 90 kNm
Project data Freudenstadt
Tunnel length: 146 m
Lining method: pipe jacking
Application: storm sewer
Geology: layered red sandstone talus material
Customer: Peter + Partner Rohrvortrieb
Client: City of Freudenstadt