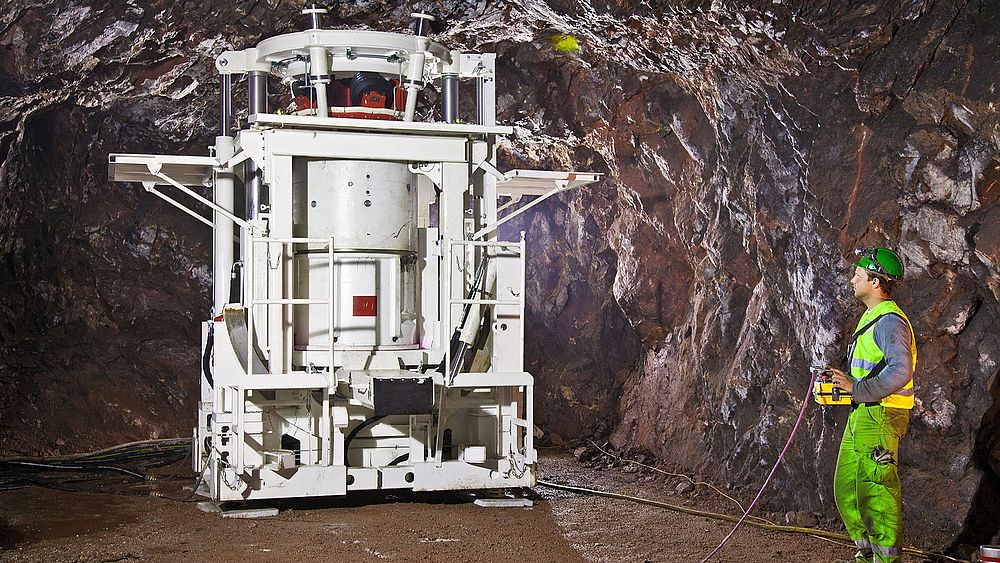 Efficient and safe development of underground mines
At bauma 2013 Herrenknecht shows new products to build mining infrastructures.The portfolio covers machinery which drills in all directions, at diameters from 0.3 to 12 meters. The innovative solutions are based on tried-and-tested technology and stand for safe and efficient operation. Currently, 15 machines are in use or are to be used in mining and hydropower infrastructures around the world.
Schwanau, Germany, April 15, 2013. The trend in mining is moving towards the efficient and safe exploration of raw materials at very great depths. Herrenknecht provides an entire range of machines to build mining infrastructures with diameters from 0.3 to 12 meters up to depths of 2,000 meters in all geologies. The innovative solutions are based on tried-and-tested technology and stand for high production rates. Whether vertical access or production shafts, inclined access ramps, ventilation shafts, or transport tunnels – Herrenknecht is always able to provide project-specific technology and service support in mining. The Herrenknecht range for the development of underground mines consists of Shaft Boring Machines (SBM, SBR), Raise Boring Rigs (RBR), Boxhole Boring Machines (BBM), Tunnel Boring Machines (TBM) and Shaft Drilling Jumbos (SDJ). Currently, 15 machines are in use or are to be used in mining and hydropower infrastructures around the world.

The fast mechanized exploration of raw material deposits underground plays an increasingly important strategic role for the leading mining companies. Conventional methods for developing the infrastructures are very time-consuming. Herrenknecht therefore continuously adapted the comprehensive product portfolio to these specific customer needs. To do so, Herrenknecht used its technological know-how across sectors.
Shaft Boring Machine (SBM)
Using a vertical cutterhead, the Herrenknecht SBM drills up to 2,000 m into hard rock enabling diameters of 10 to 12 meters. At the same time, it acts as a bucket wheel that transports the excavated material upwards. Gripper plates provide for the necessary stability. The cutting tools are exchanged in a specially secured above work area so that no personnel has to perform any regular or maintenance work at the shaft bench.
Shaft Boring Roadheader (SBR)
The Herrenknecht Shaft Boring Roadheader (SBR) works similarly for medium soft rock. It drills up to 1,000 m with diameters of 8 to 12 m. Here, however, partial-face excavation using a roadheader boom together with an innovative pneumatic mucking system is employed. Two Shaft Boring Roadheaders (SBR) are currently at work helping to build what is potentially the world's largest potash mine located in the province Saskatchewan, Canada. The project owner wants to save time using mechanized technology to reach the potash deposit at a depth of 1,000 m safely. The 45-meter-long machines sink production and service shafts.
Raise Boring Rig (RBR)
The Herrenknecht Raise Boring Rig excavates shafts down to depths of 2,000 m. After completing the pilot drill from above, the pilot drill bit is replaced by a reamer. The rig pulls the cutterhead upwards and extends the drill hole to the target diameter. In addition to production and ventilation shafts for mines, pressure shafts for hydropower power plants are produced using raise drills. Two Herrenknecht Raise Boring Rigs already drilled several shafts for pumped-storage power plants in Luxembourg and in Switzerland. Three Raise Boring Rigs are to be used within a short time in tin and copper mines in Australia, Bolivia and Chile.

Herrenknecht's Raise Boring Rig RBR900VF is the largest in the world for dealing with diameters of up to 8 m and shaft depths of up to 2,000 m. A maximum torque of 1,125 kNm and a maximum thrust force of 22,000 kN are unique in the raise boring market. The first RBR900VF will be used in a copper mine in Australia.
Boxhole Boring Machine (BBM)
In underground mines worldwide, a large number of short, small diameter slot holes and shafts need to be excavated. To increase safety standards and to allow for high and constant production rates, Herrenknecht has developed the innovative Boxhole Boring Machine. The technology is based on the field-proven pipe jacking method and responds to the special needs of the mining industry. The newly developed BBM enables fast and safe construction of vertical and inclined slot holes and is appropriate for hard rock and mixed ground formations. The design was focused mainly on a high productivity, optimum machine mobility and increased safety through a remote-controlled machine. Quick relocation of the BBM and minimum space requirements were also key factors in the design.

The new Boxhole Boring Machine has successfully completed its first 44 upward drills at a depth of 1,000 m in the Cadia East gold and copper mine in Australia. The vertical and inclined shafts will be used to extract ore and for ventilation. The machine achieved top performances of up to 2 m of advance per hour. In only 17 hours the two-man team set up the machine, drilled a 16.5 meter shaft and dismantled the machine again.
In Hall C3, 415/514 at bauma 2013 in Munich, Herrenknecht presents the new mining technology and at booth N519/2 in the open-air area north Herrenknecht shows a BBM1500.