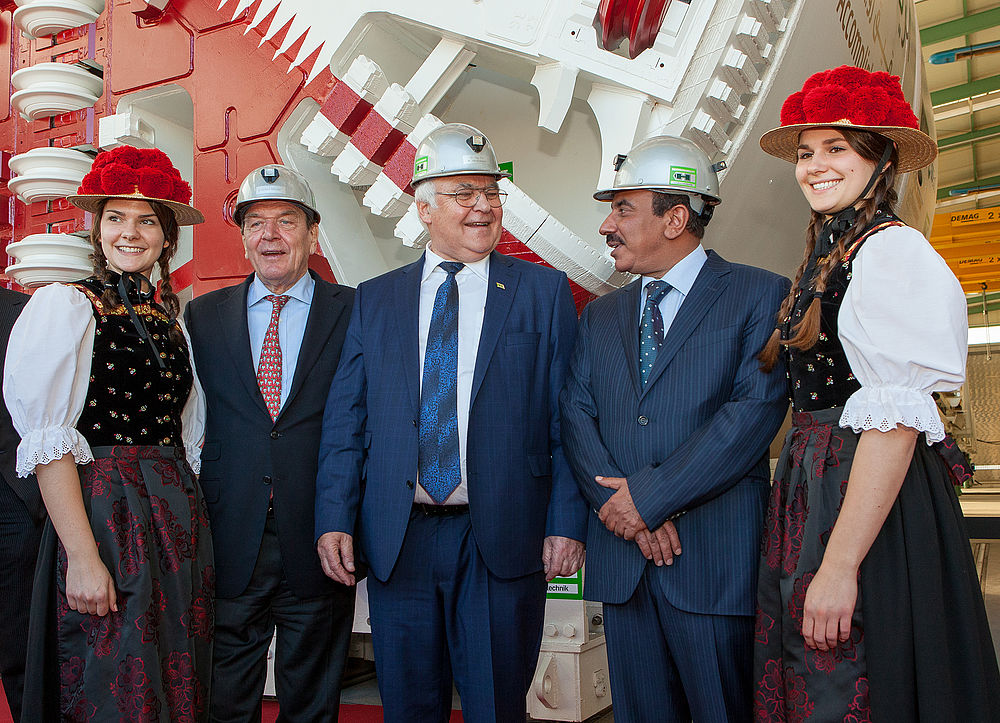 Ultramodern metro system for Qatar's capital
The State of Qatar is pursuing a large and ambitious vision destined to provide the highest standards of living to the country and its citizens by the year 2030. An important component for this is a modern transport infrastructure. Consequently the capital Doha, chronically plagued by congestion, is to receive a completely new, very efficient metro system. The company Herrenknecht was charged with the delivery of 15 high-tech tunnel boring machines for this purpose. Today HE Jassim Saif Ahmed Al Sulaiti, the Minister of Transport – State of Qatar, took a closer look at a first tunnel boring machine for this major project at the Herrenknecht plant in Schwanau together with the former German Chancellor Dr. h.c. Gerhard Schröder.
Doha, Qatar/ Schwanau, Germany, February 24, 2014. The motto for the construction of the new Metro Doha in Qatar says it all: "Accomplishing a Vision". Each of the 15 machines made by Herrenknecht for this huge expansion project will take this motto with it while building the tunnels beneath the capital of Qatar.

Today at the Herrenknecht plant in Schwanau the Minister of Transport of the State of Qatar, HE Jassim Saif Ahmed Al Sulaiti, with his delegation composed of senior representatives of the client Qatar Rail and the joint venture QDVC / GS Engineering & Construction / Al Darwish Engineering as well as a representative of the Embassy of Qatar, inspected the first machine completely finished and ready for use.
During his visit Minister HE Jassim Saif Ahmed Al Sulaiti underscored the enormous importance of this project for Doha and the land of Qatar: "Qatar holds its hopes and aspirations for the future in accordance with the Qatar National Vision 2030. One of the most important elements in fulfilling this vision is the infrastructure of the country itself. As such, we have allocated tremendous resources and a generous budget for upgrading Qatar's infrastructure, to which Qatar Rail's Doha Metro project is also included."
Engineer Abdulla Abdulaziz Turki Al Subaie, Managing Director of Qatar Railways Company (Qatar Rail), added:

"Qatar Rail places full faith in Herrenknecht's abilities to deliver exceptional quality products with attention to detail; that's why this firm has been selected to supply us with the TBMs. The budget allocated to us will allow us to deliver a state-of-the-art rail system that will give confidence to citizens and residents alike that the network will be unquestionable when it comes to security, comfort, and reliability. Of course, the benefits of our projects go beyond the transportation sector, and a positive impact will be felt socio-economically and environmentally."