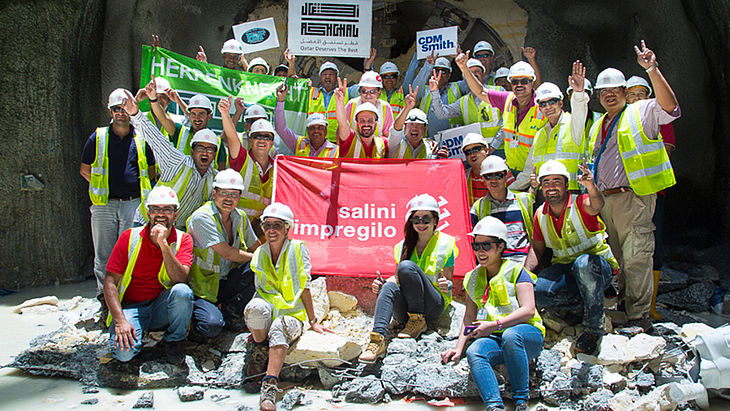 Abu Hamour Southern ‎Outfall Project
Flood protection in the desert state
Separated only by salt swamps and desert strips from Saudi Arabia, the Qatar peninsula - a thin oval shape 180 kilometers long and 80 kilometers wide - projects northwards into the Persian Gulf. The desert state of Qatar - whose 11,440 sq. meter area is mainly composed of gravel and stone - is extremely arid, most of the time.
Most of the rain falls between December and April. Flooding is then a problem where the ground is built on and sealed with roads. This is the case, for instance, in Doha (population 500,000) on the eastern side of the peninsula. For a short time water is then a real problem.
This problem was to be tackled by an underground drainage systems complete with pumping stations. Helping in this was a Herrenknecht tunnel boring machine in the year 2008. During the first construction stage of the "Abu Hamour Southern Outfall Project", the AVN machine bored 4,250 meters of tunnel 3,625mm in diameter in several sections. The aim was to drain parts of the center and the entire southern half of Doha into the Gulf.
The tunnels serve as main collectors for the entire drain network. The second construction stage should see tunnells being bored to direct the collected water to a pumping station near the coast on the Doha International Airport. The pumping station was planned for a capacity of 16.5 cubic meters of water per second.
For this second construction phase, two Herrenknecht EPB Shields were employed since 2014. Their tunnelling job are just about 5-kilometer-long sections each, respectively, for the drainage system. For the first time in this large-scale project, the tunnels were not lined by pipe jacking but by segmental lining.
Both high-tech machines broke through the target shaft precisely to the millimeter in quick succession of each other by the end of July 2015. Both Herrenknecht TBMs only required 12 and 14 months respectively for their tunnel sections. Under the professional guidance of the responsible construction company they achieved remarkable top performances of up to 165 meters per week. At a depth of around 30 meters, the EPB method proved to be the optimum choice to master the cohesive soil with its high proportion of rock in Doha. Herrenknecht designed a special cutting wheel with a large opening ratio for the customer - resulting in correspondingly efficient material excavation. High maximum push forces ensured top advance rates for both machines.