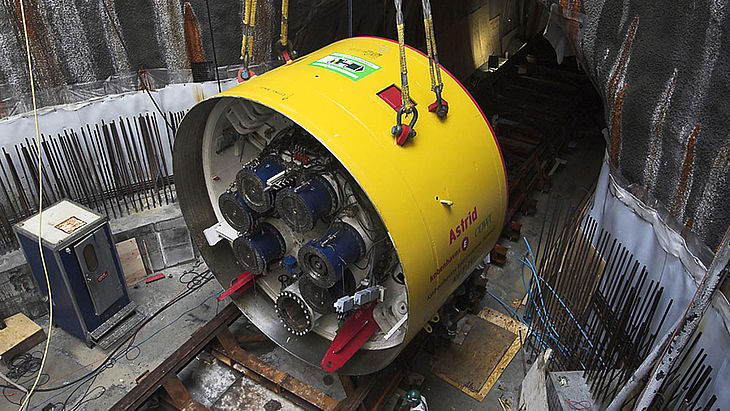 Copenhagen Energy Tunnel
Copenhagen shut down two power plants that had supplied Denmark's capital with district heating for several years. They were replaced by a new power plant that had to be connected to the existing pipelines of the district heating system. The tunnel route passes under Amalienborg Palace, Queen Margrethe's winter residence, and Copenhagen's harbour. The tunnel's route runs in two straight sections that are connected at an intermediate shaft - located in an inner-city, densely populated area - by an angle of 55 degrees.
The Herrenknecht EPB Shield S-331 started excavation in summer 2006 and drove the tunnel through limestone with weekly best performances of more than 230 meters. The team on the jobsite finished the tunnelling of 3,819 meters after only nine months. Breakthrough was celebrated on April 25, 2007.
The overall fast completion of the project is achieved with the help of an innovative construction at the intermediate shaft supplied by Herrenknecht's subsidiary H+E Logistik: after turning the TBM at the intermediate shaft and the re-start for the second section, a tailor-made booster station for the tunnel belt was installed. The booster station diverted the tunnel belt around the 55-degree angle and, therefore, for the entire drive only one single belt was necessary. Neither, for example, the belt storage nor the entire transport logistics for the excavated material had to be moved form the launch shaft to the intermediate shaft. Time is saved, costs are saved.