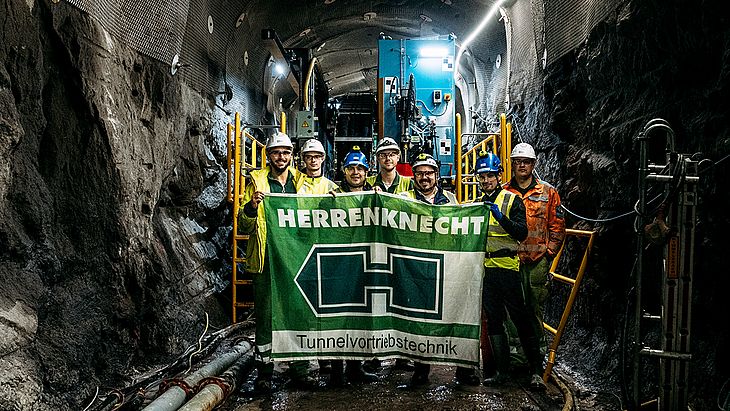 Final Disposal Facility Onkalo
The world's first facility for the final disposal of spent nuclear fuel is being built in Finland. With the Onkalo plant on the island of Olkiluoto in southwestern Finland, Posiva's team of specialists is creating deposition tunnels and caverns at a depth of around 450 meters, in which the disposal canisters containing the spent nuclear fuel can be safely stored.
In coordination with Posiva, Herrenknecht developed and built the new Downhole Boring Machine (DHBM). The innovative DHBM is designed to create a large number of vertical blind holes in the Onkalo deposition tunnels in the coming years, into which the disposal canisters will later be lowered. The focus was on the requirement that the boreholes, with a diameter of 1.75 meters and a depth of approximately 8.3 meters, must be drilled into the rock quickly and with the utmost precision. Precision is one of the prerequisites for the permanently safe storage of the castors and the lining of the boreholes with bentonite elements. In addition, the DHBM is characterized by a compact design and by optimum maneuverability in confined spaces as well as by maximum work safety.
After successful field trials and acceptance of the machine at the Schwanau plant by the customer, Herrenknecht delivered the DHBM to Finland. In October 2022, the new DHBM – after the traditional christening with the name "Aava" – successfully completed two underground test deposition boreholes in Finland.
Further Information about the DHBM
The Repository Project in Onkalo
Photo credit: Herrenknecht, Posiva, Tapani Karjanlahti/TVO