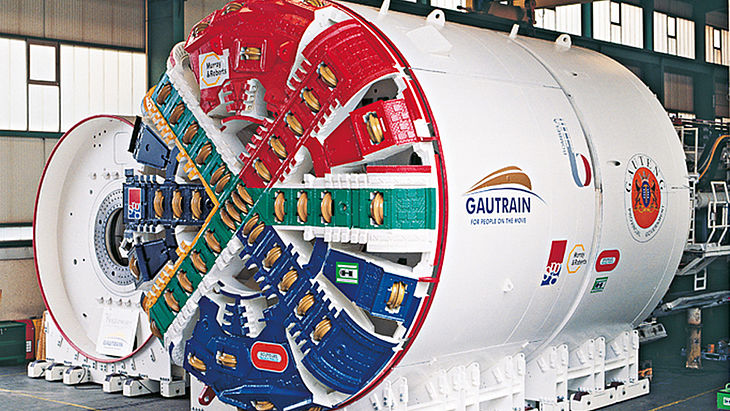 Gautrain Rapid Rail Link
The greater Johannesburg / Pretoria area, a melting pot home to almost nine million people, is regarded as the cultural center and economic engine of the Republic of South Africa. The Gautrain – a high-speed train linking Johannesburg, the capital of Tshwane (Pretoria) and OR Tambo International Airport – aims to relieve the permanently congested roads in the region. The two billion Euro project is the largest joint venture between the South African state and the private economy. The Gautrain is to commence operations in time for the World Cup in 2010.
After the Durban Harbor Tunnel, the Gautrain was the second Traffic Tunnelling project in South Africa in which Herrenknecht was involved. Around 16 kilometers of the 77-kilomter high-speed route are underground. The three most difficult tunnel kilometers involved driving a Herrenknecht EPB Shield through the ground. Along a stretch underpassing Johannesburg city center with overburdens of only five meters in places, it had to eat through largely fine sand, silt and clay and a quarter of the route led through abrasive consolidated rock containing quartz. Following assembly of the machine and a name-giving ceremony in December 2007, the "Imbokodo" EPB Shield started tunnelling at high speed in the direction of Park Station: after only twelve months, the machine made its breakthrough in January 2009.