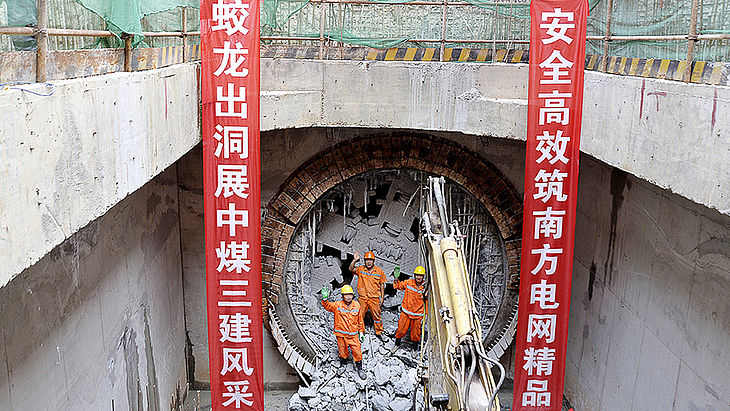 Guangzhou Power Grid
The Pearl River Delta metropolitan area in southern China with its about 42 million inhabitants is growing into one of the world's largest urban agglomerations. About 14 million people are living in Guangzhou, one of the major cities, alone. It goes without saying that the demand for infrastructure and electricity grids below ground is very high. At the beginning of 2012, four EPB machines from Herrenknecht started working there on three casing tunnels for electric power lines.
The largest of the four machines, an EPB Shield with a diameter of 6.25m, has completed its advance for the "Houde Cable Tunnel" at the end of August 2014. Over a distance of 2,474m, the machine passed underneath densely built-up areas, a shopping mall, a logistics center, and several main roads with a peak performance of up to 82.5m per week.
A micromachine of the type EPB3500 achieved very tight curve radii of up to 118m for the "Xiniu-Qilin Substation Cable Tunnel". Between December 2011 and October 2014, the 4.34m machine excavated a casing tunnel for electricity cables of 3.85km precisely and safely.
Number 3 and 4 of the Herrenknecht EPB quartet for the power supply of Guangzhou excavated a total of 3.3km in 2014 for the "Hangyun Cable Tunnel" – with an impressive monthly peak performance of 525m.