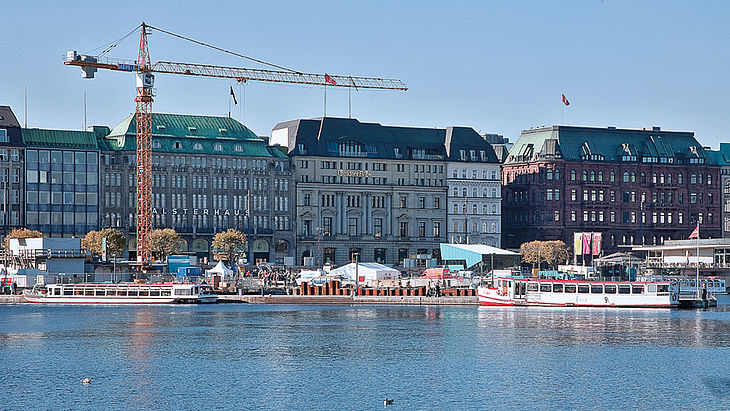 Hamburg U4
Three minutes for the metro ride between "Überseequartier" and "Jungfernstieg" – and two more minutes to get to Hamburg Main Station. Starting in late 2013, the new Metro Line U4 will connect Hamburg's prestigious HafenCity project to the major traffic hubs in downtown Hamburg. A 2.8-kilometer-long section of the two tunnel tubes, each with a length of 4 kilometers, was to be driven by machine at a maximum depth of 42 meters. Dense inner-city infrastructure and parts of the Port of Hamburg will had to be underpassed.
Herrenknecht designed the S-440 Mixshield in line with the project specifications: The principle of Mixshield tunnelling stably secured the tunnel face, even under changing geological conditions. The isolated invert segment shield is designed to reduce the effort involved in maintenance as it can reduce the risk of clogging. The crusher is capable of cracking boulders of up to 50cm in size. "Vera" - a German acronym for "from the Elbe toward the Alster" - the Mixshield completed the first tunnel in the target shaft on Jungfernstieg in October 2009. Excavation of the second tunnel was resumed in January 2010 and successfully completed in November 2010.
The lining segments used in Hamburg were produced in moulds from Herrenknecht Formwork. The precise navigation of the machine is calculated by the VMT navigation system. MSD delivered the launch construction, rolling stock as well as segment handling equipment. Tunnelling specialists from GTE supported the jobsite.
Hamburger U4 (German)