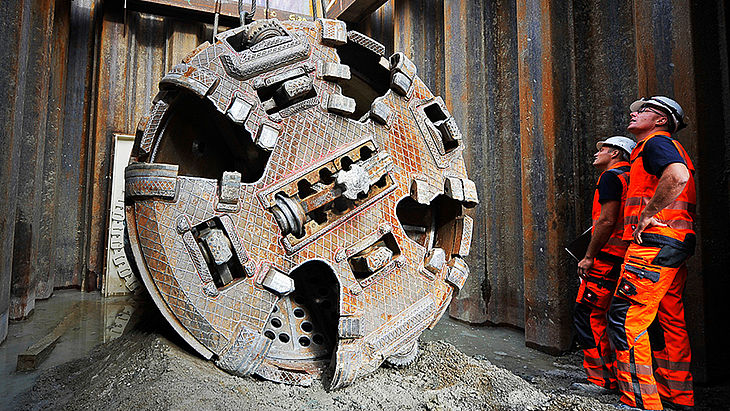 Inn-Unterquerung Erdgasfernleitung MONACO
The project manager for client bayernets GmbH is clearly impressed after the breakthrough: "It was and is a very challenging project, installing a pipeline under the Inn is extremely difficult. We had to deal with a wide range of different soil layers. That, of course, demands specialists who know what they are doing." One of the necessary specialists was the Herrenknecht tunnel borer AVND2000.
The subject under discussion is the crossing under the Inn, Inn headrace canal and Inn floodplains in the course of the large-scale project "MONACO natural gas pipeline". When it is commissioned in 2018 the 87 kilometer long gas pipeline between Burghausen on the German-Austrian border and Finsing north of Munich will strengthen the energy infrastructure in southern Germany by connecting the natural gas storage facility in the province of Salzburg to the Bavarian natural gas pipeline network. One of the key structures here is the culvert through which a protective pipe (DN 2000, DA 2500) for the pipeline (DN 1200) between Kraiburg and Waldkraiburg passes under the Inn and the Inn headrace canal.
For the construction of the culvert, contractor SONNTAG, a long-standing Herrenknecht customer, chose a Herrenknecht AVND machine that offers active and precise support of the tunnel face and thus optimal prerequisites for geologically complex river undercrossings. Consequently, on August 31, 2017 the drilling team successfully completed the 696 meter long pipe jacking drive from the launch shaft in Waldkraiburg to the target shaft in Markt Kraiburg. A total of 175 pipe segments are being installed at a depth of 11 meters beneath the riverbed of the Inn.
MONACO Gas Pipeline (German)