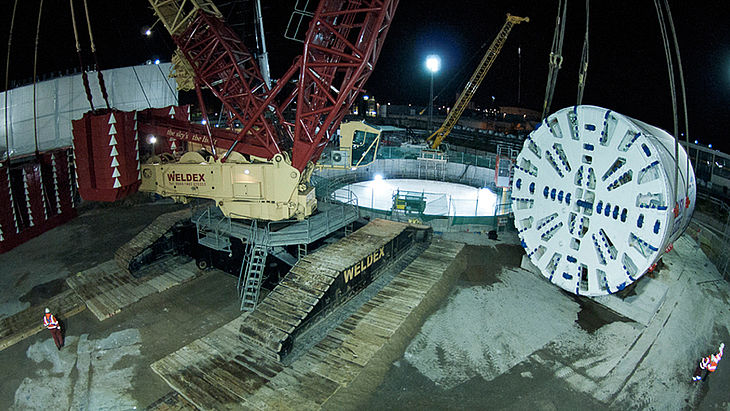 Lee Tunnel London
London's deepest tunnel
The London sewage system is an impressive example of Britain's supreme engineering expertise - from 150 years ago. Today, the system is desperately overstrained by the city's growth, aggravated by the ongoing sealing of surfaces. While there were only overstrains at some times caused by heavy rains and a drainage of mixed water (rainwater and sewage) into the Thames and its affluents, this is now a phenomenon which occurs almost every week. The burden on the Thames' ecosystem is enormous.
The extension and new construction of efficient pumping facilities and treatment plants is expected to create lasting relief. Two long tunnel structures with large diameters are to provide the necessary transport capacities. Starting in March 2012, a Mixshield from Herrenknecht, nicknamed Busy Lizzie, excavated the Lee Tunnel east of the city center from the Abbey Mills pump station to the Beckton treatment plant. Due to the large depth of around 70 meters required for this tunnel, the Herrenknecht engineers designed the machine to withstand an operating pressure of up to eight bar.
The final breakthrough for London's deepest tunnel was celebrated by the project team on January 26, 2014. Up to 54 meters of tunnel per day had been excavated and lined by the Herrenknecht Mixshield. Martin Baggs, Chief Executive Officer at the project owner Thames Water, said: "We're immensely proud of this project, delivered in time and on budget, to clean up the River Lee."
Some of the photos courtesy of Thames Water.