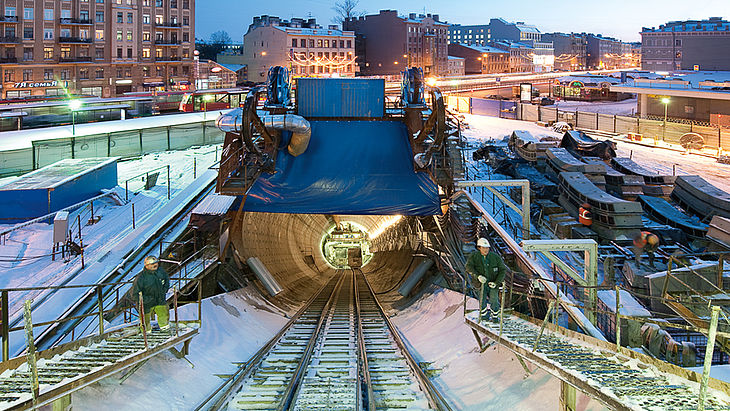 Saint Petersburg Escalator Shaft
Innovative tunnelling
Saint Petersburg is the most northern megacity in the world and its metro system is one of the deepest in the world. The Station "Obwodny Canal" is located on Line 5 at a depth of 60 meters. For a long time it was not put into operation, since the access shafts from the surface were not yet built. The major challenge during the mechanized tunnelling of the 105-meter-long escalator shaft was the gradient of 30 degree.
The solution was a Herrenknecht EPB Shield with a diameter of 10.69 meters which started with a special launch construction – developed and produced by Maschinen- und Stahlbau Dresden (MSD). The TBM was kept on its path during tunnelling with an innovative system of lifting cables and hydraulic cylinders in accordance with the parameters of the VMT guidance system. Two rail-bound wagons, drawn by winches, provided for the removal of the soil material. They also transported the segments below ground, which were produced in moulds made by Herrenknecht Formwork GmbH.
Tunnelling went smoothly with the innovative machine made in Schwanau in the hands of the OAO Metrostroy specialists, achieving performances of up to four meters a day. The last segments could be installed in time for Christmas 2009 after only twelve weeks of tunnelling. The TBM was successfully re-used for the tunnelling works at the Admiralteyskaya Metro Station between December 2010 and April 2011 and at the Spasskaya Station between March and June 2012.