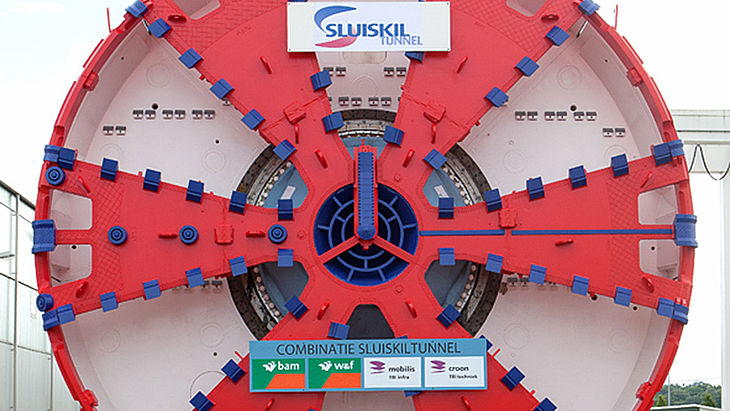 Sluiskiltunnel
The Ghent–Terneuzen Canal connects the port of Ghent (Belgium) with the Westerscheld estuary on the Dutch North Sea shore. The federal road N62 crosses the canal in Sluiskil (The Netherlands, Zeeland province) via a bascule bridge. More than 20 times a day - and thus for more than five hours - the bridge has to be opened for the shipping traffic. Waiting times and congestion for the through traffic are normal on one of the most important national roads in the Netherlands. The solution is the new dual-tube Sluiskil Tunnel.
The road tunnels with lengths of 1,145 meters each were excavated by a Herrenknecht Mixshield (Ø 11,340mm). The particular feature of the machine design is that it was perfectly adapted to the highly plastic "Boom clay" which tends to be very sticky. Thanks to the open spoke-type cutting wheel with direct material support from the cutting wheel center and the optimally adapted transport circuit, the construction team was able to surpass all expectations. The tunnel boring machine, which was given the name of "Boorbara" by school pupils, completed its work successfully in November 2013 after only nine months with weekly top performances of up to 118 meters.
During the construction of the Sluiskil Tunnel Herrenknecht engineers relied on their previous experience with this subsoil that is difficult to manage. Two Herrenknecht Mixshields (Ø 11,340mm) crossed beneath the Westerschelde estuary in the Netherlands a few kilometers north of the present site between 1999 and 2002.
Sluiskiltunnel (Dutch)