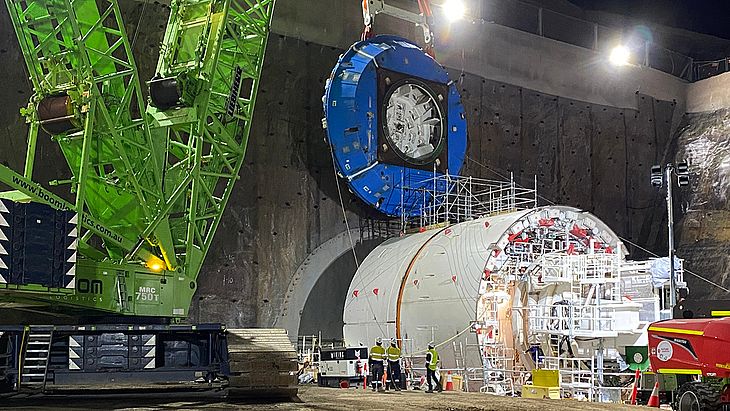 Snowy 2.0
Snowy 2.0 is the next chapter in the Snowy Scheme's history. It is a nation-building renewable energy project that will provide on-demand energy and large-scale storage for many generations to come. Here, experienced miners rely on innovative engineering from Herrenknecht to master extraordinary challenges.
The project owned by Snowy Hydro Limited was given the seal of approval by the Australian Prime Minister – Scott Morrison – at the tail end of 2021 quite literally: he put his signature on the side of the Herrenknecht tunnel boring machine (TBM) "Kirsten" and proclaimed in a press conference that: "This is what reducing emissions looks like. You have to build things like this to make that happen."
Herrenknecht is supplying two tunnel boring machines, each with a diameter of 11.01 meters, for the major Snowy 2.0 project. The Single Shield TBM "Kirsten" is designed to master a mission that is so far unique in the world in this diameter range: After driving a nearly horizontal tunnel section, the miners tackle a section with a gradient of around 25 degrees. To ensure maximum safety on the construction site and for the workers, Herrenknecht engineers prepared the design of the machine components for the steep incline. For example, the control cabin of the machine operator can be tilted so that the tunnelling specialists always have a horizontal workplace. Walkways on the machine can be converted into stairs. The machine belt that removes the excavated rock from the front of the machine can be replaced by an srew conveyor for steep heading.
For driving a tunnel section fraught with geological challenges, Herrenknecht is supplying a Multi-mode TBM christened Florence, which can be converted from open Single Shield mode to closed Mixshield operation if required. Since December 2021 and March 2022, Kirsten and Florence have been in tunneling mode under the direction of the joint venture carrying out the construction work.