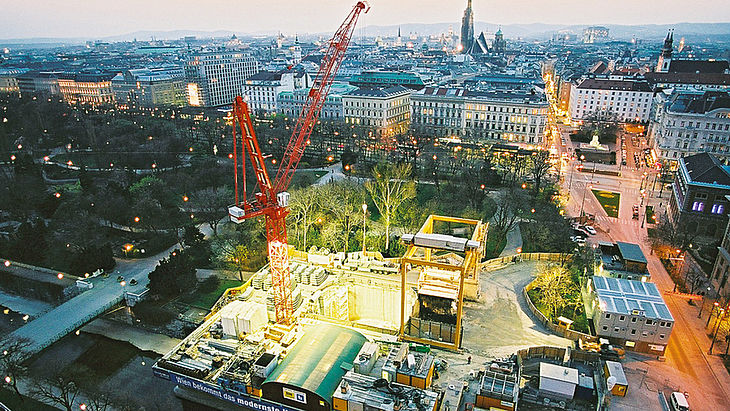 Wientalsammler WSK-E
May 2003 saw commencement of the Vienna Sewer Flow Channel, a low-lying bypass channel in the Austrian capital of Vienna. Covering a total length of 2,600 meters, the new sewer flow channel is part of Vienna's water protection program serving toward relieving the two sewer channels parallel to the Wienfluss which have been in operation since the 19th century. It is also intended to collect the entire mixed water and sewage volumes incurred by heavy rainfall thereby preventing sewage from entering the Wienfluss.
Tunnelling on the 2,600-meter shield-driving route commenced in September 2004 using the Herrenknecht EPB Shield S-257 with a length of 126 meters. Start of tunnelling was subject to extremely limited spatial conditions in Vienna's city park, starting off in a launch shaft 33 meters deep and with a diameter of 22 meters toward the target shaft at Ernst Arnold Park. After only eight months, the route was driven in closed EPB Shield mode, achieving an impressive tunnelling performance of up to 36 meters per day.
Of particular note was the underpassing of metro Line U1 at Karlsplatz which was achieved with a distance of only three meters despite a shield diameter of 8.64 meters. This translated into maximum demands on both tunnelling technology and the team. In order to pass this difficult spot, injection drills were performed from the Wienfluss beforehand with the aim of conditioning the soil.