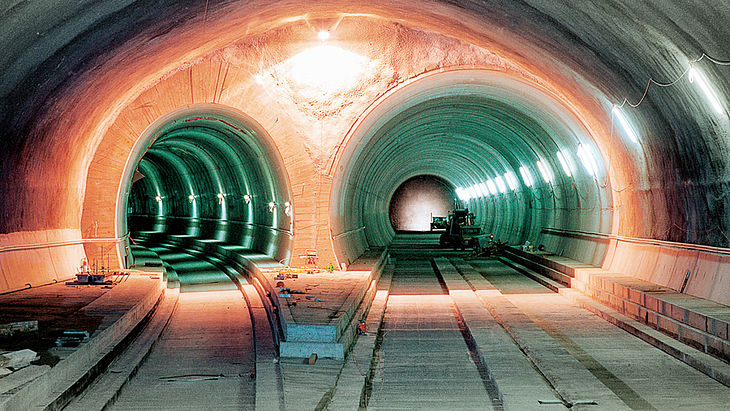 Zurich-Thalwil Zimmerberg Base Tunnel
Efficient solutions for all geologies
The Zimmerberg Base Tunnel between Zurich and Thalwil forms a centerpiece of the large-scale rail project "Bahn 2000" that, in combination with the NEAT Project (the new rail link through the Alps), will significantly enhance the efficiency of the Swiss railway system. The mechanized tunnelling faced challenges like an extremely wide range of geological conditions and localized little overburden under the Zurich urban area. At about a third of the length of the route, two TBMs started in opposite directions from two adjacent launch shafts.
The Herrenknecht Mixshield S-140 provided the solution for tackling the varying geological conditions encountered on the route to Zurich: it could be converted inside the tunnel from dry to wet mucking thereby enabling tunnelling in both intact rock as well as in aquiferous soft ground. Tunnelling had to be carried out under residential buildings and business premises in Zurich, but thanks to the use of pipe arches, injections and sensor systems the project was concluded safely in May 2001 with a minimum of settlement.
40.8 meters of world record tunnelling in one day performed the Single Shield TBM S-139 by Herrenknecht on its way to Thalwil through the sandstone of the Upper Freshwater Molasse. The Hard Rock TBM crossed the finish line in early December 1999 after only 15 months of tunnelling.