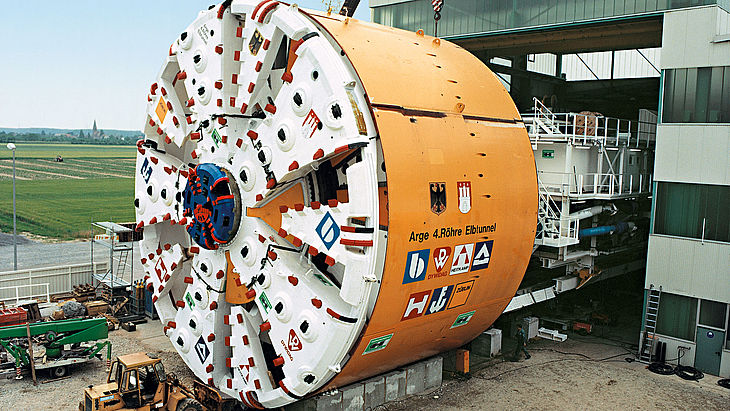 4th Elbe River Tunnel Hamburg
A milestone of tunnel construction
By the 1990s the existing three tunnels of the Elbe tunnel were unable to cope with the volume of the Hanseatic city's traffic and the north-south long-distance traffic. A fourth tunnel was needed to ease traffic congestion. It was decided to excavate the tunnel by machine in order to avoid disrupting ship traffic on the River Elbe. Especially the high water pressure of up to 5.5 bar but, as well, the expected changing ground conditions with overburdens of only seven to 13 meters ask for an innovative engineering for a safe and efficient excavation.
The citizens of Hamburg nicknamed Herrenknecht's Mixshield, the machine best equipped to carry out this task, TRUDE (German abreviation for "deep down under the river Elbe"). With a diameter of 14.20 meters, it was at that time the largest tunnel boring machine in the world. Since a conventional excavation tool change was not possible, Herrenknecht developed special cutting wheel spokes accessible under atmospheric conditions. The active center cutter could advance up to 600mm in front of the cutting wheel, thereby improving tunnelling through the extremely cohesive soil. Another innovation used with TRUDE was the SSP System (Sonic Softground Probing). It helps to detect in time larger ostacles on the tunnel route. Excavation of the tunnel was completed in just two years and five months.
After only two years and five months the excavation of the tunnel was completed. The success of the project and the technology employed were the benchmark for mechanized tunnelling for a long time. Today, approx. 30,000 vehicles pass through the 4th Elbe River Tunnel per day.