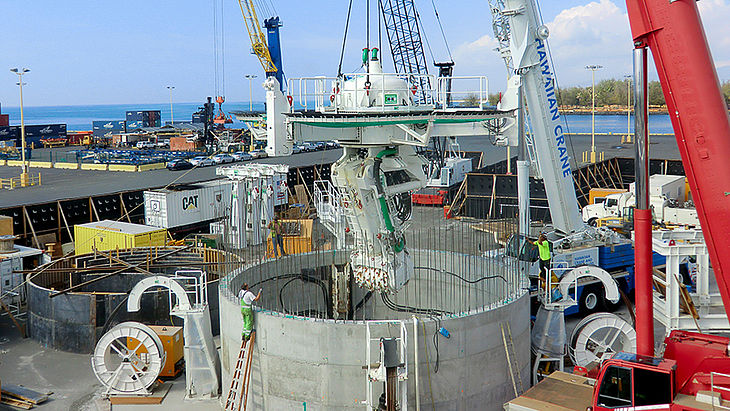 Ala Moana Wastewater Pump Station Honolulu
Directly after the successful U.S. premiere of Herrenknecht VSM technology at the "Ballard Siphon Replacement Project" in Seattle followed the next deployment: two shafts in Honolulu with boring diameters of 10.8 meters and depths of 36.2 meters. On the Hawaiian island of Oahu the VSM shaft sinking machine constructed two microtunnelling launch shafts. The microtunnelling drive created two new sewer lines that cross under the Fort Armstrong Channel. The capacity of the antiquated and overstretched connection between the "Ala Moana Wastewater Pump Station" and the "Sand Island Wastewater Treatment Plant" was significantly improved by the new sewage tunnel.
Both shaft construction projects underlined the advantages of mechanized shaft sinking (Vertical Shaft Sinking Machine, VSM). At the first hole the site crews handled hard basalt that really put the VSM's roadheader to the test. After successful completion of the first drive in June 2013, the VSM bored the second shaft, also lined with in-situ concrete, in just two months from October to December 2013 after daily best performances of up to 2.4 meters.