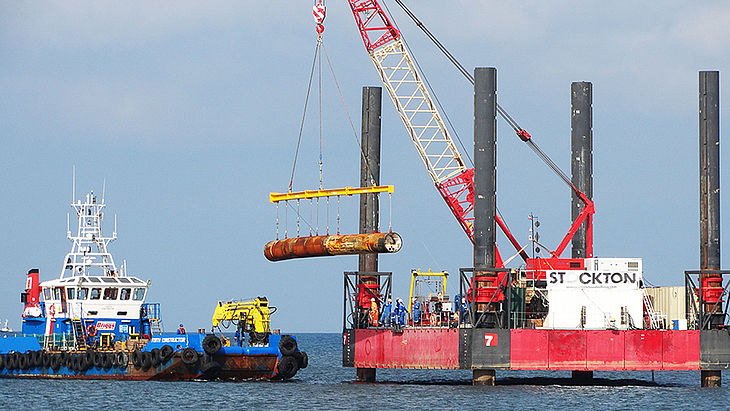 Beatrice Offshore Wind Farm Landfall
First sea outfall with Direct Pipe®
In 2017, Direct Pipe®, developed by Herrenknecht, was used for the first time in the construction of a sea outfall. The drive started on land and crossed under the foreshore, before the tunnelling machine was recovered from the seabed at the target location. Under difficult geological conditions and in an inhospitable location on the Scottish North Sea coast, two 440 meter long 48 inch cable conduit were successfully installed beneath the coastline. The electric cables installed in the conduits will connect the Beatrice Offshore Wind Farm currently under construction, to the grid operated by National Grid. With the commissioning planned for 2019 and a capacity of 588 megawatts, the new wind farm in the Outer Moray Firth, North of Portgordon will generate renewable energy for around 450,000 households.
The team of specialists from the drilling contractor commissioned by energy company Scottish & Southern Energy carried out the drives with the Direct Pipe® system from Herrenknecht (AVN1000 + Pipe Thruster HK750PT). The trenchless installation of the pipes protects the flora and fauna of the coastal stretch, which is a designated Site of Special Scientific Interest (SSSI).
Complex ground conditions with gravel, clay, partially weathered sand and mudstone and an overall high degree of abrasiveness posed tough challenges for man and machine. In response to the unexpectedly high wear of the tools on the first drive, Herrenknecht supplied modified disc cutters for the second advance, which significantly improved performance.
The successful completion of the project in October 2017 was marked by the offshore salvage of the 28 tonne, 18 meter long machine from the seabed following the second drive. The AVN1000, which is connected to the pipeline during the advance, was separated at the recovery module with the assistance of a remote controlled disconnect unit, specially developed by Herrenknecht. The recovery module securely sealed the pipeline against incoming water.
The experience gained in Scotland with the successfully realized undertaking opens up a new field of application for the Direct Pipe® method for outfalls, intakes and landfalls (shore approaches).