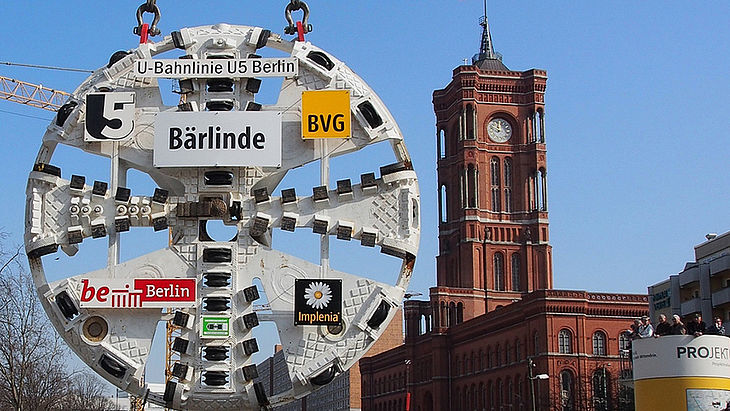 Berlin U5
Metro extension in Germany's capital
Berlin's underground is extremely challenging for tunnelling teams and systems. Sand, erratic blocks and groundwater will have to be safely bored through during the construction of the new tunnel for the extension of the Metro Line U5.
U5 has so far ended at Alexanderplatz coming from the east of the city. And the Line U55 runs from Brandenburg Gate to Berlin Central Station. The new metro line will close this gap in the middle of the network of Berlin U-Bahn between Alexanderplatz and the Brandenburg Gate. The client, Berliner Verkehrsbetriebe BVG, expects the new line to serve up to 150,000 passengers per day.
The twin-bore tubes, each with a length of 1.6 kilometers, were driven and segmentally lined using a Herrenknecht Mixshield. The S-788 machine – christened "Bärlinde" in early May 2013 – started tunnelling in summer 2013. With overburdens of five to 17 meters, the tunnel alignment runs from Marx-Engels-Forum under the Spreeinsel and the Schloßplatz with the neighbouring Humboldt Forum jobsite and along the Unter den Linden Boulevard to the Brandenburg Gate. The new interchange station Unter den Linden will be built at the Friedrichstraße intersection connecting the new Line U5 with the existing Line 6. The Mixshield arrived at the final position on October 14, 2015 after driving the frist and the second tube. The connection to the subway station Brandenburger Tor planned for 2016 is being created manually.
For safe undercutting of the Spree and the Spree Canal the construction company originally planned elaborate ballasting of the river and canal beds with 40 centimeter thick steel plates. Working together in a spirit of innovation, however, client, construction company, a research institute and the machine manufacturer developed a smarter solution, which has led to a significant improvement in the ability to use Mixshields for tunnel sections with small overburdens: in some stages the machine was driven using a higher density bentonite suspension (HDSM = High Density Support Medium). This meant that in comparison to conventional suspensions, with considerably higher transferable support pressure the penetration depth into the soil ahead of the machine was significantly reduced. Thanks to the HDSM used, Bärlinde was able to safely cross under the Spree with very low overburden beneath the riverbed.
To protect the environment and the city, the tunnel boring machine, the segments and the excavated material were transported by ship on the Spree River. Between Rathausbrücke and Liebknechtbrücke a temporary port were set up specifically for this project.
A Herrenknecht Mixshield S-126 already drove the U55 tunnel between Berlin Central Station and the Brandenburg Gate in 1998. The metro station at Brandenburg Gate was then built using the pipe arch method and two Herrenknecht micromachines.
www.BVG.de/U5 (German)
Some pictures by courtesy of Berliner Verkehrsbetriebe (BVG)