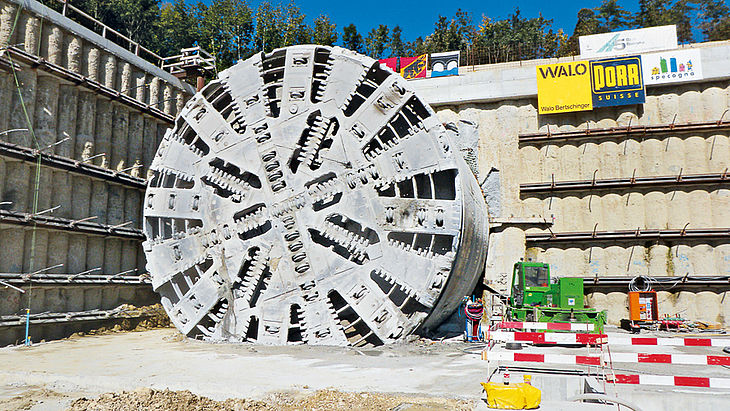 Biel East Branch
The largest in Switzerland
The aim was to relieve Biel (Canton of Bern, Switzerland) and the surrounding villages from the ever-increasing volume of traffic. The Biel bypass of the A5 highway closed the final gap in the Swiss national road network. It is divided into a western and eastern portion each approximately five kilometers long. The latter includes the 2,487-meter-long Längholz Tunnel and the 1,460-meter-long Büttenberg Tunnel. Bringing the entire eastern portion of the Biel bypass into operation - including the two twin-tube tunnels - is scheduled for 2016.
The "Belena" S-452 Earth Pressure Balance Shield - the second largest EPB Shield operating in Europe and the largest tunnel boring machine in Switzerland - was used for the two tunnels of the east bypass. The S-452 of a 12,560-mm diameter started tunnelling its way through the molasse and unconsolidated rock in May 2009.
"Belena" excavated for the four tunnels in total 4.8 kilometers in rock and 2.3 kilometers in unconsolidated rock. Especially tunnelling in unconsolidated rock in EPB mode with an overburden of only seven meters in some parts asked for the tunnelling specialists' profound technical know-how. The team and the technology tuned in to the project's conditions better and better and, therefore, were able to accelerate the tunnelling of the second tunnels by one third and finished six weeks faster: tunnelling at highway speed with the Herrenknecht EPB Shield that could be operated in open mode or in closed mode in cases where an instable tunnel face had to be supported additionally by compressed air.
The crew and the machine were enthusiastically celebrated upon breakthrough on February 18, 2012.
The A5 Highway Biel (German / French)