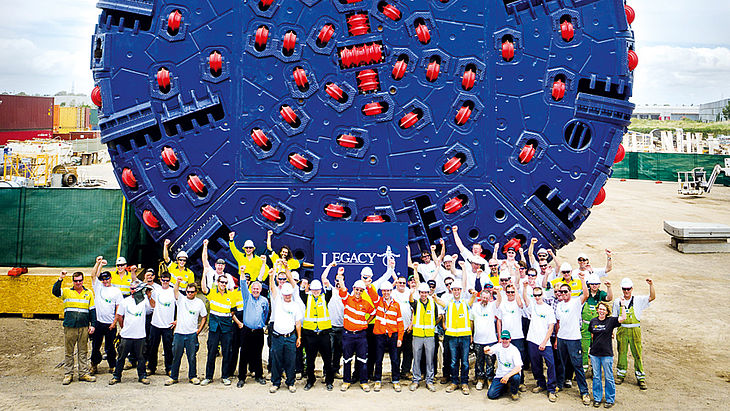 Brisbane Legacy Way
Record tunnelling
Tunnel constructors at Legacy Way (Northern Link) in Brisbane drive at record speed with the two Herrenknecht Double Shield TBMs: They installed up to 123 segment rings per week (246 meters of tunnel). With these results they achieved world leadership in the diameter range above twelve meters. Breakthrough occured in April and June 2013, respectively, after only six and nine months of tunnelling. Within this short period of time, they each produced 4.3 kilometers of tunnel.
Brisbane, the capital of the North-East Australian Federal State of Queensland, is one of the growth regions Down Under. Brisbane's number of inhabitants increased by more than 10 percent in 2011 alone, for example. Politicians and the administration now face the challenge of creating efficient traffic infrastructures. During his period in office as Mayor of Brisbane, Campbell Newman initiated the "TransApex" transport plan which is to lastingly relieve the tense traffic situation. At the heart of this project is the mainly underground highway network which is to reduce aboveground through traffic and provide for a quick link to the airport in the north.
Herrenknecht machines have already successfully completed two sections of this large-scale project. Two EPB Shields (Ø 12.45 meters) drove the dual-tube road tunnel for the Airport Link, and the Clem Jones Tunnel beneath Brisbane River was built using two Double Shield TBMs (Ø 12.34 meters). The two high-tech giants from the Clem Jones project are now being used again for Legacy Way. The machines named "Annabell" (S-647) and "Joyce" (S-648) have each excavated an almost 4.3-kilometer-long, two-lane tunnel for Legacy Way. The tunnel runs west of the city center and connects the Western Highway with the inner city bypass at Herston, creating a new traffic artery towards the city center.
Furthermore, the Herrenknecht Group contributed to the jobsite operation with a belt conveyor for removing excavated material (H+E), the TBM's navigation system (VMT) and multi-service vehicles for transporting the material in the tunnel (Techni-Métal Systèmes).