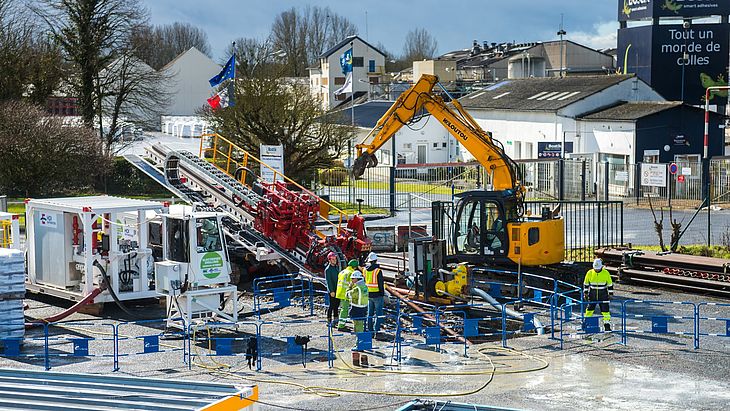 Canal Latéral à l'Oise Crossing
Hybrid technology stands for a smart, green footprint. This drive type was used for the first time on an HDD-Rig from Herrenknecht for a river crossing northeast of Paris. The HK80CK rig combines several advantages in one: it is particularly space-saving and ideal for use in inner-city areas. The drive by the electric motor is environmentally friendly, low in emissions and low in noise. As a result, acceptance of the construction work by the population is increased.
In this pilot project, the HK80CK rig was used to make room for large boats. Since the ten meter deep canal latéral à l'Oise had to be widened and deepened, the gas pipes installed under the riverbed had to be lowered eight meters and replaced. Within a week, the hybrid rig from Herrenknecht bored the around 250 meter long and 18 meter deep river crossing.
Instead of a diesel engine, which makes noise protection and exhaust gas purification necessary, the rig is electrically powered. The diesel engine is only needed to drive the machine into position, after which all components, such as separation and mixing plants, transfer tanks, mobile pre-crushing unit and transfer pump are electrically powered. Apart from the separately attached control container, all main components are on the rig. This makes it easy to transport the machine even in narrow alleyways. The reduced impact on urban space when using the efficient, low-footprint machine is a major step forward in environmental protection and sustainability.