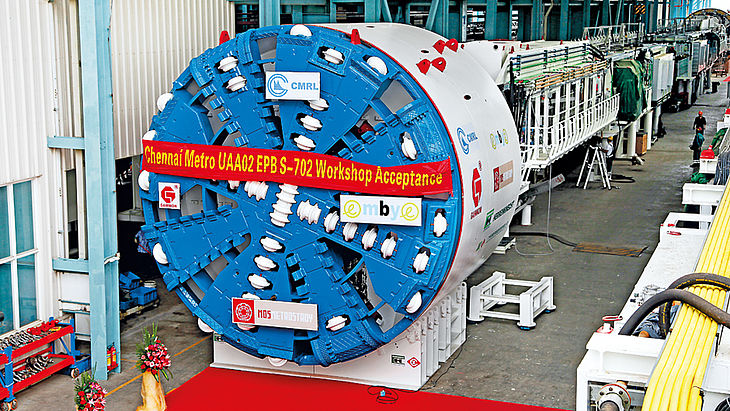 Chennai Metro
Around one third of India's population lives in conurbations - an increasing trend - and more than 30 Indian cities count more than one million inhabitants. At the same time, India is among the world's largest economies. This means that the need for metro systems to channel the heavy traffic load through the underground in the densely built-up cities, is high today and will remain so in future.
In the 9-million metropolis of Chennai on India's south-east coast, a metro system consisting of initially two lines is being built. "Phase I" of the large-scale project involves a route length of 46 kilometers. Herrenknecht received orders for eight EPB Shields for excavating the whole length of the metro tunnels. In September 2012, the first machine started work. The tunnel engineers know their business and the machine was optimally tuned to the project. At the beginning of February 2013, 39 segments could be installed in one day - 54.6 meters of tunnel and a proud achievement. Tunnelling was successfully completed for the lot "UAA 5 Shenoy Nagar – Thirumangalam" in October and December 2014 and for the lot "UAA 2 May Day Park - AG-DMS" in July and September 2015. The final breakthrough for the lot "UAA 1 Washermenpet – Egmore" was accomplished after 9.3 of metro tunnelling in February 2017. After further 17,6 kilometers for the last lot "UAA 3 Saidapet - AG-DMS", on December 14, 2017, the EPB-Shield S-704 "Daria" achieved the final breakthrough and completed the tunnelling of the XXL project Chennai Metro Phase 1.
Since 2007, Herrenknecht has been locally represented with its branch Herrenknecht India Pvt. Ltd. in Chennai, Federal State of Tamil Nadu. The local staff enables Herrenknecht to support projects and customers in the region quickly and efficiently. In December 2011, the storage, steel construction and assembly capacities for the Indian growth market were extended by constructing a new building on the branch's site - with a size totaling 3,700 m2.