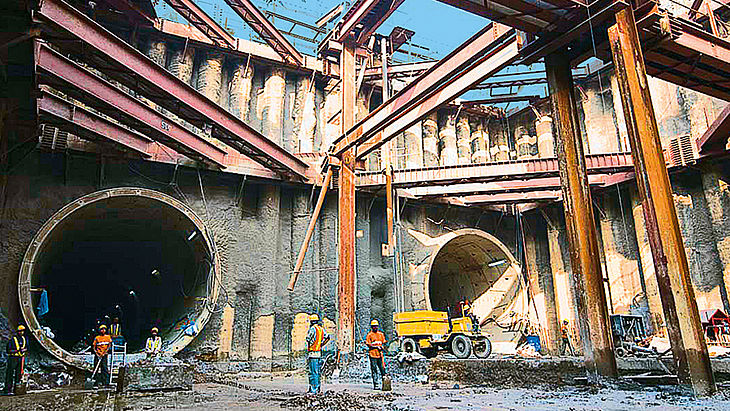 Delhi Metro
20 projects. 43 kilometer.
The first successful tunnel drives on the Indian subcontinent by Herrenknecht EPB Shields startet 2002. The three machines bored a total of 7 kilometers of tunnel for this first expansion oft he Delhi Metro.
In the run-up to the Commonwealth Games in October 2010 Delhi's public authorities were again increasingly investing in the infrastructure of this city of 19 million inhabitants which is already plagued by constant gridlock. These projects also include new subway lines, which have been under construction since 2007. The client, the Delhi Metro Rail Corporation (DMRC) was given only three and a half years to extend the subway network by around 125 kilometers in construction phase II. The challenges the engineers had to face were, above all, the densely populated residential areas with many historical buildings.
The Herrenknecht Earth Pressure Balance Shields proved themselves in Delhi in eleven projects. For example, they underpassed a major railway route without any disruptions to train traffic. Along one tunnel section, the TBM unexpectedly had to master rock formations, which meant that Herrenknecht had to deliver a new cutting wheel to the customer to pass this zone and avoid a TBM recovery. Two machines started tunnelling only a few meters away from the India Gate, one of New Delhi's landmarks, and continued boring beneath the government district with its embassies without problems. The TBMs successfully completed tunnelling in the eleven projects with the last breakthrough occurring in October 2009, which allowed to open the new metro lines to traffic in due time before the Commonwealth Games.
Just like the growth of population and economy in India, the upgrade of the metro system in Delhi and New Delhi does not take a time-out. The tunnel builders ordered the well proven and tested tunnel boring machines from Schwanau for twelve new projects. Additionally, Herrenknecht supported the customers with comprehensive service and specialist know-how as well as required spare and wear parts to re-employ machines that had been successfully used on other tunnelling sections. Up to the last breakthrough of a Herrenknecht TBM – for the time beeing – in March 2017 a total of 40 kilometers of underground structures for an efficient infrastructure were beeing built.