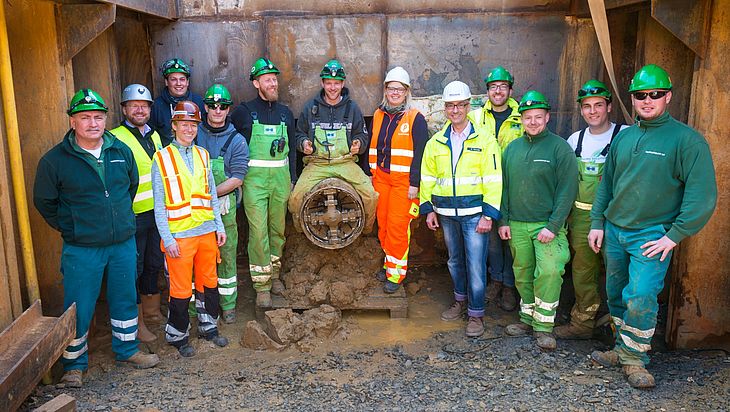 E-Power Pipe® PE protection pipe installation KÜS Marbeck – KÜS Lüningkamp in Borken
High demand for new transmission grids
The expansion of power transmission grids and the construction of new trunk lines are typically carried out with overhead lines. For this, construction plans often have to be discussed and agreed on in laborious and time-consuming procedures. The newly developed technology E-Power Pipe® from Herrenknecht now offers an alternative: small-diameter cable protection pipes with drive lengths of over a kilometer can be installed quickly and securely underground with this innovative method. The trenchless technology can be precisely controlled and used with only small overburdens, thus offering a ground-conserving alternative to the conventional open-cut method for high-voltage grid expansion.
Successful pilot project
E-Power Pipe® was used for the first time in the spring of 2017 in Borken (North Rhine-Westphalia) for the power line connection from Wesel to Meppen. Three parallel holes with a length of 300 meters at a shallow depth were bored for the installation of HDPE pipes for later cable insertion. At the starting point a specially designed jacking frame was installed, with the feed force of which the jacking pipes and the TBM were pushed along the specified route in the direction of the target point. The borehole remained securely supported by the machine and the jacking pipes the whole time. After breakthrough at the target point, the pipe jacking machine was separated from the jacking pipes and the prefabricated cable protection pipe was connected instead. Subsequently, the jacking pipes as well as the cable protection pipe were pushed back and fed into the launch shaft via the jacking frame.
During advance valuable insights could be gained, leading to multiple optimizations, such as a gyro compass and additional steering articulation for curve drives. After project completion, an additional change in the form of improved connections of the steel jacking pipes for shorter attachment times was implemented. In the end the tunnel alignment could be maintained almost exactly. Best performances of up to 126 meters advance per day during pilot drilling and 266 meters per day when the protective pipe was retracted demonstrated the efficiency of the method during the pilot project already.
The development of the method received funding from the Federal Ministry of Economics and Energy (BMWi research product IBoTec) and was carried out by Herrenknecht in cooperation with Amprion GmbH and with RWTH Aachen.