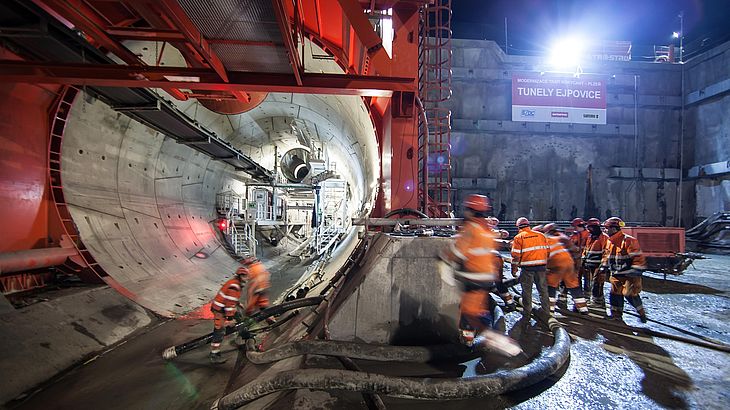 Ejpovice Tunnel
Multi-mode premiere in Eastern Europe
For the Ejpovice Tunnel in the western Czech Republic, a Multi-mode TBM from Herrenknecht was used in Eastern Europe for the first time. Specially adapted to the ground conditions, the large machine with a diameter of just under 10 meters excavated two 4 kilometer long railway tunnels between Rokycany and Pilsen. The contractor's tunnelling crews achieved best performances of up to 182 meters per week and celebrated the breakthrough of the second tube in October 2017.
As the centerpiece of the route's expansion, the Ejpovice Tunnel contributes significantly to reducing travel time between Pilsen and the capital Prague to less than an hour. In addition, the region around Pilsen – with about 170,000 inhabitants the fourth largest city in the Czech Republic – will be better connected to the trans-European transport network.
The Multi-mode TBM from Herrenknecht built two-thirds of the two tunnels through quartzite shale stone and clay soils in closed EPB mode with screw conveyor muck removal. On the last approximately 1.1 km of each route the machine bored through hard spilite rock, for which it was converted to open single-shield mode with belt conveyor removal. Each of the conversions was realized inside the tunnel in only two weeks.
The cutting tools were also changed for the second section of each drive. 19 inch disc cutters were thus installed for the single-shield mode section instead of the previously used 18 inch disc cutters. The larger disc diameter allowed higher contact pressure in the solid hard rock, resulting in longer run times without tool changes.
In addition to the TBM, an equipment package from the Herrenknecht Group also contributed to the project's success. Multi-service vehicles from Techni-Métal Systèmes were used to transport the lining segments and other materials. Also included in the scope of supply were a cooling tower system and the belt conveyor systems for muck removal from H+E.
In the hands of the experienced miners, Herrenknecht's multi-mode technology proved its effectiveness in the Ejpovice Tunnel. With the largest TBM diameter ever used in the Czech Republic, they successfully drove the country's longest railway tunnel.