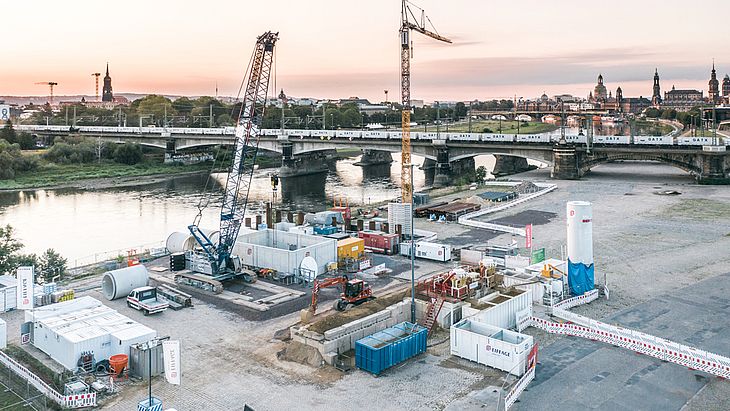 Elbdüker Dresden
The state capital's only Elbe tunnel saves more than 3,200 tonnes of carbon dioxide a year
Since December 2020, there has been an accessible crossing under the Elbe in Dresden. However, technicians from DREWAG, Dresden's public utility company, only enter it about twice a year for inspections. The rest of the year, it supplies district heating to the northwest of Saxony's state capital, primarily the Pieschen and Leipziger Vorstadt neighborhoods. Two 500 millimeter pipes run in a culvert with an inner diameter of 2,600 millimeters. They can transport up to 100 megawatts of heating energy, thus securing supply and further expansion on the other side of the Elbe. The use of district heating saves more than 3,200 tonnes of carbon dioxide annually.
To achieve this, a Herrenknecht AVN machine (automatic tunnel boring machine - wet) drove a tunnel through the subsoil up to 7 meters below the Elbe. On average, it was expected to advance 10 meters a day. In fact, it managed up to 18 meters on the best day. Normally the AVND2400 bores shafts for pipes with an inner diameter of 2,400 millimeters and an outer diameter of 3,000 millimeters. Here under the Elbe, an inner diameter of 2,600 millimeters and an outer diameter of 3,200 millimeters were required. For this Herrenknecht used an extension kit. This allows the machine to be adapted to project-specific requirements with very little effort. As a result, the 6.5 meter long, 100 tonne machine made trouble-free progress in the river gravel and sand gravel under the Elbe. Shortly before breakthrough, another special challenge awaited: a 1.5 meter thick reinforced concrete wall with fiberglass-reinforced plastic. It, too, was bored through as planned. On August 28, 2020, after 30 working days and 245 meters of tunnelling at depths of up to 22 meters, the machine achieved breakthrough in the target shaft.
The two district heating pipelines were then installed. Ventilation systems, electrical installations and safety technology were also fitted.
District heating as an environmentally and climate-friendly solution – especially for old existing buildings
The Elbe culvert creates the prerequisites for sustainable expansion of environmentally friendly district heating. Until now, there has only been one district heating pipeline on the Carola Bridge. It has reached its capacity limits. The new pipes can transport up to 100 megawatts of heating energy. In December 2020, 40 megawatts had already been ordered by new customers or were already being supplied. So there is still enough capacity to ensure supply in the future. Around 4,500 homes and a number of businesses in the Pieschen district alone are already receiving environmentally friendly heat from the pipes. And the trend is rising. Connecting the suburb to the district heating network is a key component of Dresden's sustainability strategy. The expansion and densification of the district heating network are among the decisive factors in reaching the city's climate protection targets.
District heating is considered very sustainable because it comes from highly efficient combined heat and power generation when natural gas is burned in the DREWAG power plants. It is produced more or less as a by-product of electricity generation at the municipal utilities. When you consider that 45 percent of greenhouse gas emissions result from heat generation, it becomes clear why district heating generated in this way is so environmentally friendly. For example, it also ensures more efficient use of energy in places where there are many listed buildings whose structural improvement options are limited.