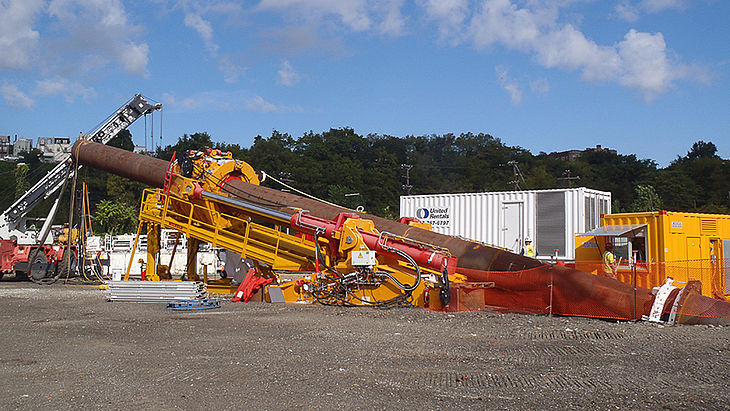 Empire Connector Extension
Over a distance of 24 kilometers the Empire Connector Pipeline was to be extended from Steuben County in the U.S. state of New York to Tioga County in Pennsylvania to provide greater capacity for the transport of shale gas in the northeastern U.S.A.
A particular challenge of this major project was a section less than a kilometer long southeast of the city of Corning: the Chemung River, Interstate 86, State Highway 352, a local road as well as a major railroad and the surrounding wetland areas had to be crossed. Preliminary geological studies in the project area showed that the upper soil layers are composed mainly of loose, coarse-grained layers – in this geology the proven HDD method reaches its technical limits. Realizing the trenchless borehole therefore called for a specifically adapted drilling concept. The planning engineers opted for a combination of the Direct Pipe® technology from Herrenknecht and classical horizontal directional drilling (HDD).
First the Direct Pipe equipment was deployed on the south side of the river. Using the flexible, liquid-based AVN technology a 110 meter long section was driven safely through the loose geology until the deeper, firm shale bedrock was reached. Then the pipeline together with the AVN800 machine was completely retracted with the Pipe Thruster. At the same time a thick bentonite suspension prevented the borehole from collapsing. After the retraction a hydraulic hammer rammed in a protective pipe or starter casing, which then served as a guide pipe with the appropriate angle for the HDD drive. In the shale bedrock the long HDD drive was then carried out without problems, before the protective tunnel was finally removed again hydraulically after installation of the product pipe.
The project in New York thus showed that even the most difficult undertakings can be carried out safely and efficiently through the intelligent, combined use of various proven technologies.