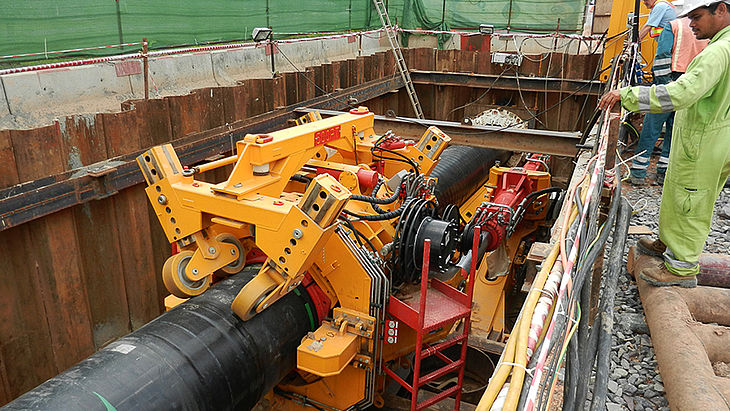 Fourth Transmission Pipeline
Premiere for Direct Pipe® and Pipe Express® in Asia
The Fourth Transmission Pipeline is a 293 kilometer gas pipeline that runs from southern Thailand to the country's interior. A connection was needed from the LNG plant in the Maptaphut industrial zone in Rayong to the Wang Noi Kaeng Khoi connecting pipeline in Saraburi province that could both meet the current gas requirements of industry, power plants and residents along the pipeline and also cover the increasing demand of the local economy.
The greatest challenge faced by the project was the limited space available along the planned tunnel route. Much of it leads through densely populated areas and along a busy highway, which is additionally restricted by a parallel high-voltage power line. In addition, many buildings, roads and supply lines had to be crossed under. Depending on requirements, different trenchless driving methods were used. Herrenknecht supplied two sets of Direct Pipe equipment (AVN800 + Pipe Thruster) as well as three Horizontal Directional Drilling Rigs (HK150T, HK250T and HK400T) and a Pipe Express system. The newly developed Direct Pipe® and Pipe Express® methods were used in Asia for the first time.
Thanks to the space-saving technologies the construction work was carried out quickly, efficiently and with minimal disruption to communities and residents. Altogether 58 individual boreholes with a total length of over 23 kilometers were realized using the Herrenknecht machines. The last drive started in July 2015 just before completion of the second major part of the project. After more than 3.5 million man hours the latter was completed in September 2015 . The pipeline with a diameter of 42" now runs through Thailand under 45 watercourses and 189 roads. The gas is kept under a pressure of up to 1,250 psi and is transported through six provinces to the Wang Noi Kaeng Khoi connecting pipeline.