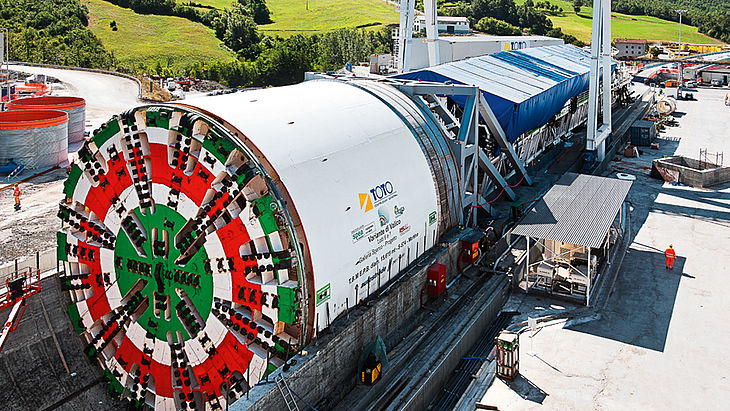 Galleria Sparvo
The giant
In Italy, a much-used section of the A1 highway between Bologna and Florence is being widened. One part of the "Variante di Valico" extension project is the construction of the Sparvo tunnel between Sasso Marconi and Barberino del Mugello. The tunnel construction consists of two parallel drives, each with a diameter that set a new record in mechanized tunnelling. The two 2.5-kilometer-long tubes each house a dual lane roadway, along with a third emergency route. On the five kilomters in total loose ground was expected, some containing explosive firedamp.
In order to ensure a high level of occupational safety and speedy tunnelling performance, the contractor opted for a Herrenknecht EPB Shield. The shield diameter of "Martina", the TBM S-574, of 15,550mm was a world record at that time. The entire machine was designed explosion-proof in the face of the expected gaseous soils, including a double-walled encased tunnel belt conveyor, that is additionally pressurized, and an efficient ventilation system. Also, the multi-service vehicle delivered by Techni-Métal Systèmes, a Herrenknecht subsidiary, was designed explosion-proof in line with the ATEX specifications.
The record machine started tunnelling in northern direction in August 2011. The first leg was successfully completed after only 12 months with the breakthrough at the first tunnel as early as July 2012. The construction of the second tube came close to a final spurt. After top performances of up to 24 meters per day and up to 126 meters per month, Martina crossed the finish line after only eight months on July 29, 2013. Therefore, the project was completed within two years only. A gigantic success for the entire Sparvo team.