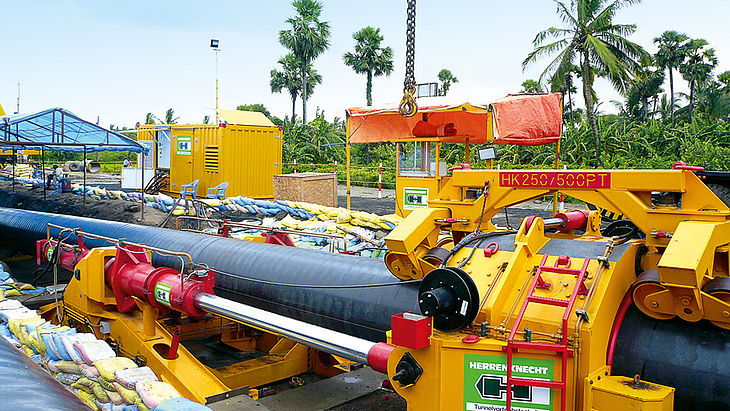 Godavari River Crossing
India's economy is booming. To meet the country's growing energy demand, India increasingly relies on natural gas. By 2025, natural gas is planned to make up a fifth of the country's energy mix. To achieve this goal, the 1,386-kilometer-long "East-West Gas Pipeline" will be laid on the subcontinent. Beneath the Godavari River in Southwest India, a 2,400-meter-long casing tunnel had to be driven beneath the riverbed before the summer monsoon would make the River burst its banks.
Tunnelling works under time pressure – no problem for the two identical EPB Shields made by Herrenknecht. The two machines started tunnelling from both riverbanks – reaching their target in the middle of the river after only three months. This left enough time to pull the prefabricated gas pipeline into the casing tunnel with up to five meters per minute using the Herrenknecht Pipe Thruster HK250/500PT before the flood waters arrive. And make the expansion of the natural gas network take one giant step forward.