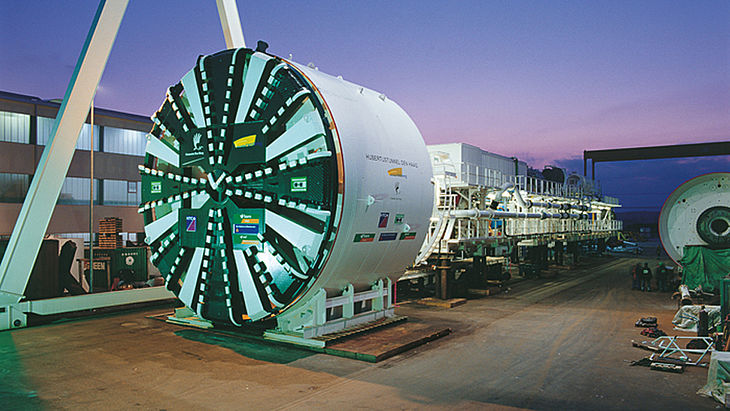 Hubertus Tunnel
Inner-city premiere in the Netherlands
If a tunnel in the Netherlands is to be built by machine for the first time under a built-up area, than this has to be done by Herrenknecht Mixshield. Because the tunnelling has to be done fast and secure and without any disturbance aboveground.
The Hubertus Tunnel is the final link in the northern Randweg of The Hague, Netherlands. The freeway connects the interstate A4 with several suburbs and downtown The Hague. Modified traffic routing was planned to reduce the traffic volume in the individual city quarters. The parallel, two-lane Hubertustunnel has an overall length of 1,840m. The required tunnels each having a length of 1,490 meters are driven by the Herrenknecht Mixshield S-309. The tunnel alignment mostly passes through sandy formations and is located below the groundwater table.
The 1,200-tonnes-colossus had to master low overburdens of only five meters. On the first tunnel section, breakthrough occurred after five months of tunnelling on November 13th, 2006. The second tunnel was completed on June 4th, 2007 likewise after five months of construction. In spring 2008, the Hubertus Tunnel was opend to traffic.