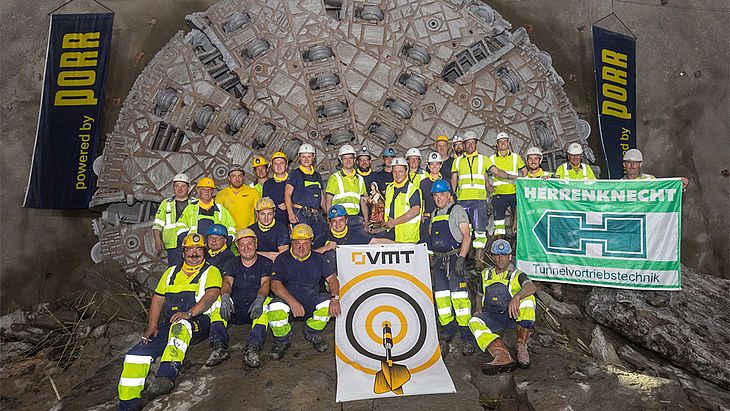 Koralmtunnel KAT3
High-tech machine for Austria's tunnel builders
Lot KAT3 of the Koralm Tunnel calls for tunnelling high-tech and knowledgeable tunnel builders. The approximately 10 kilometer long section includes both soft ground and hard rock as well as the so-called Lavanttal main fault zone in between. For this challenging task Herrenknecht is supplying a Multi-mode TBM with a shield diameter of 9,870 millimeters, which can be converted in the tunnel from EPB mode to hard rock mode as a single shield TBM.
With a total length of 130 kilometers, the Koralm Railway between Graz and Klagenfurt is one of the most important transport infrastructure projects in Europe. It is part of the new southern section and thus also part of the Baltic-Adriatic Corridor. The centerpiece of the Koralm Railway is the 32.9 kilometers long Koralm Tunnel under the Koralpe mountains. With the planned opening of the line in 2023 the shortest travel time from Graz to Klagenfurt will be cut from currently 3 hours to 45 minutes.
Acceptance of the approximately 2,475 tonne machine took place at the Schwanau plant in May 2015. A little later on October 2, 2015 it was christened "Kora" at the Andrehfeier celebration in Carinthian St. Andrä. On the occasion of the go-ahead Austrian Minister of Transport Alois Stöger emphasized: "A modern railway infrastructure is a lifeline for the country."
The first approximately 4 kilometers the TBM drove through the sedimentary rocks of the Neogene and the Laventtal main fault zone in EPB mode. Since June 2018, after two months of conversion work, it will complete the remaining approximately 7 kilometers in the open hard rock mode. Kora" reached the final breakthrough on June 17, 2020. The CEO of the Austrian Federal Railways (ÖBB), Andreas Matthä, celebrated the breakthrough as a "milestone for a project of the century".
In order to monitor the state of the cutting tools in real time as far as possible and to plan the necessary maintenance intervals economically, two systems developed by Herrenknecht were installed: Disc Cutter Rotation Monitoring (DCRM) constantly monitors the rotational movement of the disc cutters and thus allows conclusions about the degree of wear. Disc Cutter Load Monitoring (DCLM) measures how load is applied to the disc cutters. Additionally, cameras can be installed in the cutting wheel to record images of the tunnel face and display them in the control cabin.
Herrenknecht Formwork is supplying extensive formwork and handling equipment for lot KAT3, with which around 43,000 precision lining segments will be produced.