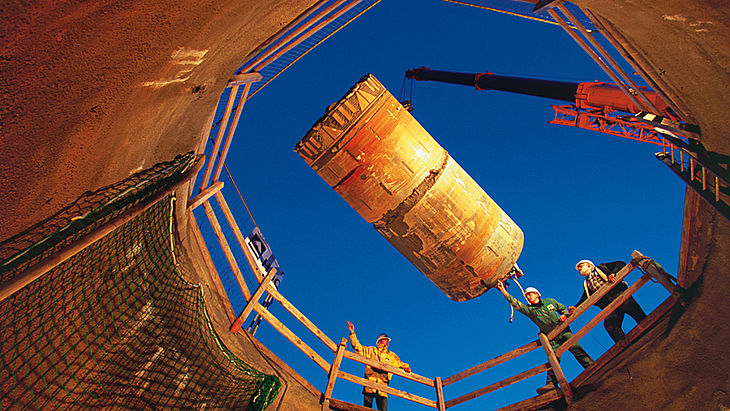 Lünen
In favor of the industrialization, mining and economic growth, the Ruhr Area's water quality in rivers and creeks was neglected for several years. Great efforts were made since then to reduce the contamination of nature and water. The costly rehabilitation of the river Emscher, that had been the most poluted river in Germany, is an outstanding example of this plan. The project involved in the Emscher region the construction of several sewage treatment plants as well as a number of sewage tunnels.
Sewage and rainwater treatment plants were to be built close to the River Seseke in Lünen. Sewage tunnels with an inner diameter of 1.3 meters and three drives with a total length of 930 meters had to be be laid beneath, and alongside, the river. The first drive crossed under the water with a minimal overburden of only two meters under the river bed.
Herrenknecht rented out to the project a tunnel boring machine of the EPB1400AB type that was fitted with a Mixshield cutting wheel and a solid matter pump to cope with the geology, comprising of typical Ems marl mixed with clay, silt and layers of sand. The machine had to work in ground-water-retaining soil, at depths of up to twelve meters and had to drive through seven inspection shafts that had been constructed prior to the pipe jacking. An outstanding project, also with regard to the maximum drive length of 440 meters, which is unusual for this diameter, that was successfully finished.