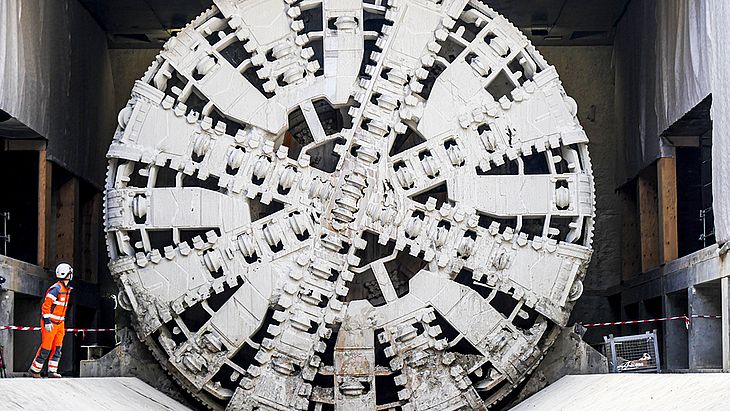 Lyon Metro Line B
Around 220 million people use Lyon's metro every year. The 2.4 kilometer long underground extension of Line B from Oullins Centre to Saint-Genis-Laval/Hôpitaux Sud will significantly improve the network's capacity. For this project, the contracting joint venture of Implenia and Demathieu Bard ordered a tunnel boring machine from Herrenknecht. To safely handle the heterogeneous ground conditions when tunnelling under densely built up inner-city areas, the Variable Density TBM machine type was chosen.
The predicted ground conditions along the tunnel corridor include a variation of predominantly heterogeneous gravel layers and a section of stable granite with up to 189 MPa. The tunnel runs primarily above the water table with overburdens ranging from 9 to 24 meters.
The project-specific machine design called for the TBM to be operated in closed slurry mode for the entire duration. Here the excavation chamber is continuously supplied with a bentonite suspension and the required support pressure is provided by means of a regulated compressed air cushion. This ensures the stability of the soil surrounding the machine during the advance.
The excavated soil is removed from the excavation chamber behind the cutting wheel by a screw conveyor and liquefied in a slurryfier box. A jaw crusher installed in the slurryfier box crushes the material so it can be transported away hydraulically by the slurry circuit. Since the jaw crusher is integrated in the slurryfier box, it can be serviced at atmospheric pressure and with correspondingly reduced effort.
Mechanized tunnelling for the extension of Lyon's Metro Line B began in November 2019 in the direction of the Oullins station. The miners reached the Orsel target shaft with the Variable Density TBM on May 15, 2021, after weekly advance rates of up to 90 meters. The tight limits with regard to settlement defined by client Sytral for the inner-city drive were safely adhered to. The machine concept of the Variable Density TBM has proven itself in the construction of public transport infrastructure exactly where it is needed.