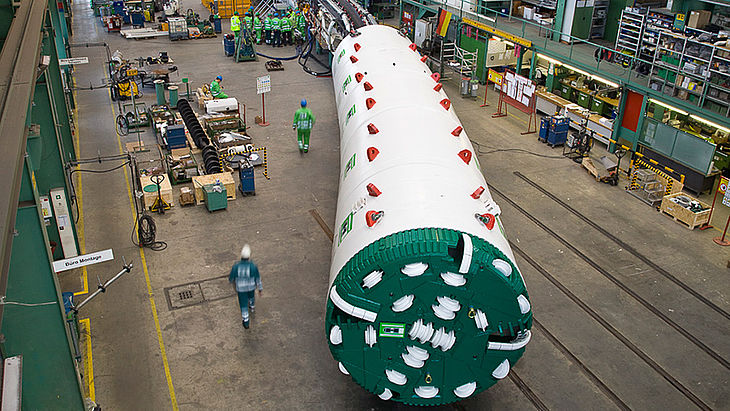 Makkah Haram Sewer Line
Right up close to the customer with service from afar
Mecca is the most important place of pilgrimage for Muslims and is visited by millions of pilgrims annually. Non-Muslims are prohibited from entering the Muslims' holy ground. To nevertheless professionally cope with the technical challenges of excavating the new Makkah Haram Sewer Line with two Herrenknecht EPB Shields, in cooperation with the customer Herrenknecht came up with something special: a new remote monitoring system that allows the engineers in Schwanau to observe the drive in real time and if necessary support the TBM crew in Mecca. With the launch of the first drive in summer 2014, all data, measurements and live video were transmitted to a duplicate control cabin at Herrenknecht's headquarters. In addition, Herrenknecht conducted extensive and intensive training of customer personnel at the Schwanau plant on the machines ready for acceptance.
The elaborate preparation and support of the local team were necessary not least because of the tight curves with radii of only 80 meters in places. To make such a drive possible the machines were adapted to the course of the tunnel alignment with ten very short and thus flexible back-ups. Consequently top performances were delivered with real precision work beneath Mecca's busiest street. The equipment for the production of concrete segments to line the sewer tunnels was provided by Herrenknecht Formwork.
Thanks to the successful cooperation and the exceptional service both EPB Shields made good progress. In December 2015 they completed the first advances just two weeks apart – with top performances of nearly 94.8 meters per week and 20.9 meters per day. The second machine drives a good kilometer further through hard rock.