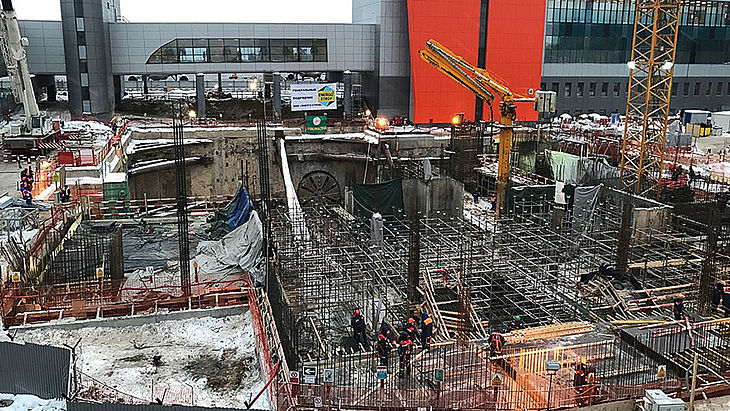 Moscow Airport Sheremetyevo Transfer Tunnel Terminals
The population and economic growth of the Russian capital puts immense pressure on the existing transport routes, which will be increased again by the hosting of the Football World Cup in 2018. Herrenknecht has been supplying tunnelling and shaft sinking technology to Russian contractors for traffic and supply and disposal structures in Moscow for around 30 years.
The efforts of Russian transport planners to strengthen the infrastructure of the Greater Moscow region include investments in the expansion of Sheremetyevo Airport north of Moscow. In addition to the construction and modernization of terminal buildings, for example, two passenger and baggage transport tunnels increase the airport's efficiency and passenger comfort. Herrenknecht supplied two EPB Shields (diameter 6,250 mm) for the excavation of the almost 2 kilometer long tubes. Belt conveyors from Group company H + E were used to handle muck removal.
The particular challenge was that the drive crossed under the runways during ongoing flight operations. This was the only way to prevent flight operations at one of Moscow's most important airports from being restricted or even brought to a halt during construction. Under the direction of the Russian tunnel builders, Herrenknecht's Earth Pressure Balance Shield technology proved itself at this sensitive point: the excavation of the soil and the lining of the tubes with concrete segments by the machines were carried out without heave or settlement on the surface and thus without damage to the runways. On January 28 and February 21, 2017, the drives were successfully completed.