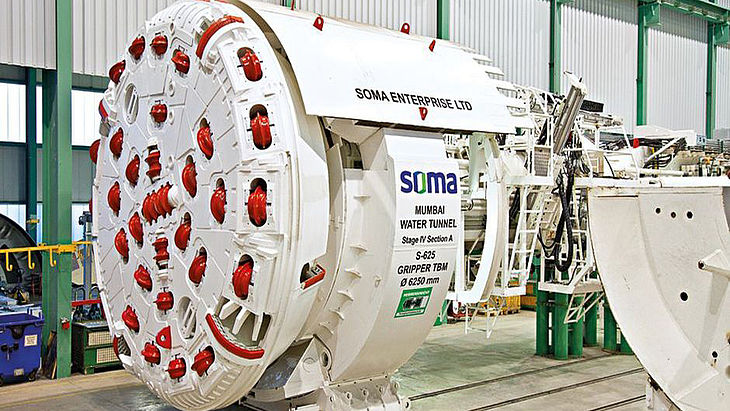 Mumbai Water Supply Tunnel IV
The population of Mumbai, India's most important business center, is growing at a fast pace. As in every rapidly growing city, water supply is one of the main problems here. Not all of the around 20.5 million inhabitants of Mumbai have access to clean drinking water. The existing pipelines are old and the water is regularly sullied during monsoon rains.
With the help of a newly-built dam on the Vaitarna river, the city's administration plans to explore a new water source to improve the fresh water supply, in particular during dry seasons. To realize this project, a Herrenknecht Gripper TBM with a diameter of 6.25 meters drove a water supply tunnel with a length of more than 6 kilometers through hard basalt. This tunnel leads the water from the Bhandup water complex to the city district of Gundovali located in Mumbai's city center. The TBM was able to safely manage incoming groundwater, especially when crossing beneath the Kasheli river and the lakes in the city district of Thane, using an efficient drainage system in the TBM's invert.
However, Herrenknecht's scope of delivery not only included the Gripper TBM, but also a navigation system from the subsidiary VMT. In addition, Herrenknecht provided experienced job site staff from the Chennai subsidiary and the largest vertical conveyor built so far from our subsidiary H+E transported the excavated material from the tunnel through a vertical shaft with a depth of 110 meters. With the Gripper TBM, there was a production level of tunnel lined with shotcrete of up to 215 meters a week. The breakthrough was achieved in September 2013. This means that the inhabitants of Mumbai can hopefully be supplied with an additional 455 million liters of fresh drinking water daily from 2021 onwards, both during monsoon rains and in dry seasons.