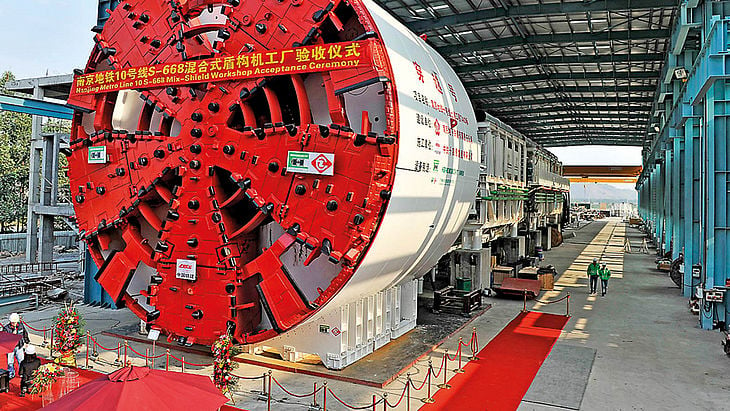 Nanjing Metro
Herrenknecht technology was involved from the beginning, when the first metro line was built in Nanjing. The first three EPB Shields for the construction of 6.5 kilometers for Line 1 worked from 2002 to 2003. Since then, another 23 EPB Shields have contributed to the new construction of Line 2, 3, 4, 7 and 10 and the extension of Line 1.
To cross beneath the Yangtze River, the metro constructors chose Mixshield technology from Schwanau. The Mixshields had diameters of 11.5 and/or 11.6 meters making it possible to accommodate the metro lines in one tube, which had otherwise led through single-track tunnels.
The latter (S-668) became well known and was nicknamed "The Flying Dragon", after it impressed the site crew of metro Line 10 with advance rates of up to 240 meters per week. The alignment here runs over a length of 3.6 kilometers and at a depth of up to 58 meters below the surface of the Yangtze River. Tunnel and machine were subjected to soil and water pressure of up to 6.5 bar.