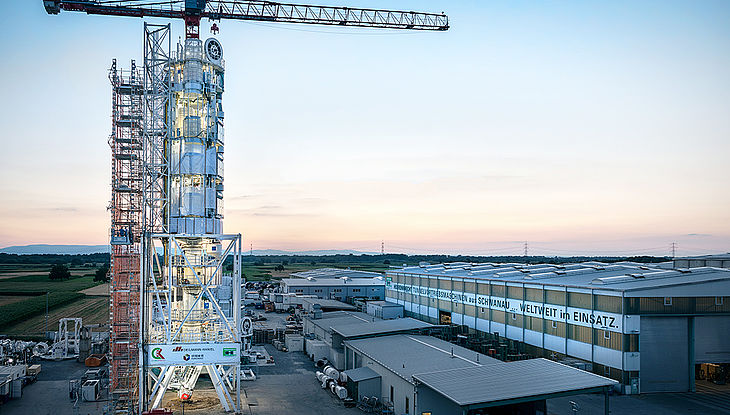 Nezhinsky Mine
The Nezhinsky GOL will become the second mine in Belarus for the extraction of potash ore and the production of potash fertilizers. The Russian mining company IOOO Slavkaliy expects a capacity of up to 2 million tons of potassium chloride per annum. To develop this potash mine in the Starobinsky potassium salt deposit, sinking of two 730 meters deep shafts by Redpath Deilmann GmbH started in December 2018 using the innovative Herrenknecht Shaft Boring Roadheader technology.
IOOO Slavkaliy is the first company in Europe to perform shaft sinking without the use of explosives. The aim by using this cutting-edge technology is to be more environmentally friendly, faster and safer than using the conventional drill and blast method.
Lessons learned from the first SBR application at the Jansen project, as well as specific project requirements lead to revisions of the SBR design for the Nezhinsky Mine. Due to a water-bearing stratum to a depth of 150 meters, the shaft will be frozen up to 165 meters.
The roadheader based SBR enables the shaft sinking crew to cut variable shaft diameters of up to 12 meters in soft to medium hard rock. Due to the telescopic design of the boom the machine can excavate approx. 1.2 meters of shaft before the SBR itself has to be released from its stable vertical position and lowered by the shaft ropes.
To improve labor safety while increasing shaft-sinking rates at the same time is the aim of mining companies accessing deep deposits today. Mechanization of shaft sinking facilitates a rise of the overall performance due to the parallelization of process steps and subsequently to a rise in the net present value of the project. Implementation of mechanized shaft sinking in mine development improves in addition significantly the working conditions.