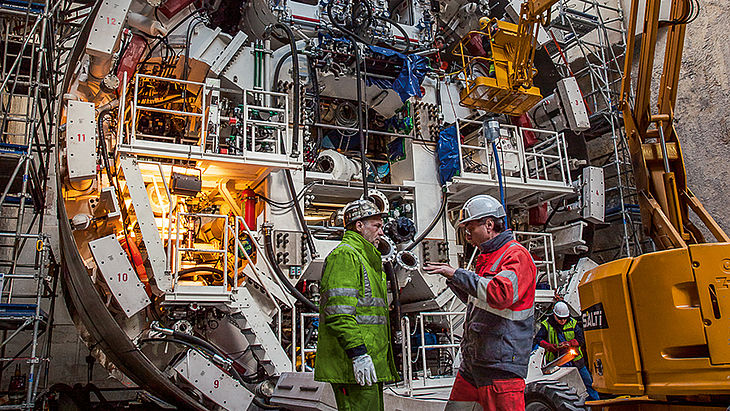 Nice Tramway Line T2
Every day some 100,000 residents and visitors use the tram Line 1 of Nice. From the beginning, passenger figures for this first tramway were extremely good, so plans for the construction of a second line quickly matured. Measuring a total of a good 11 km in length and with 20 stations, the new Line 2 will connect the airport and the harbor in an east-west direction and running parallel to the Mediterranean coast. In order to enable the new line to run through the densely populated city center as efficiently as possible, the planners decided to run a 3.2-km section between the university and Nice harbor underground.
The construction companies that were appointed to build the tunnel ordered a Mixshield from Herrenknecht to be able to safely control the complex, heterogeneous ground conditions with soils ranging from sand and gravel to clay. The tram is to run on two tracks in the finished tunnel, which is why the machine was designed for a shield diameter of 9.6 meters. In order to minimize the risk of adhesions on the cutting wheel, Herrenknecht's engineers designed the purging lines in the excavation chamber and at the center of the cutting wheel extra large to speed up muck removal.
In March 2016 the TBM, christened Catherine, is in the starting blocks. The prior assembly of the components delivered from Schwanau proved to be tricky. With tight shaft measurements of 60 meters in length, 12 meters in width and 20 meters in depth, plus a lack of storage options on the city center streets, logistics specialists and crane drivers had to pull out all the stops. Every single component, including the biggest ones, had to arrive on-site "just in time", be set down in the narrow launch pit with maximum precision, and be installed there.
Since then, the 1400-tonne mobile tunnel factory has been making underground progress across Nice at an average of over 40 meters a week, and lining the tunnel with concrete segments. On 19 October 2017, just 19 months after tunnelling commenced, the Herrenknecht Mixshield drove into the target shaft. Around 140,000 passengers are likely to use Line 2 when it commences operation after completion, expected in 2018.