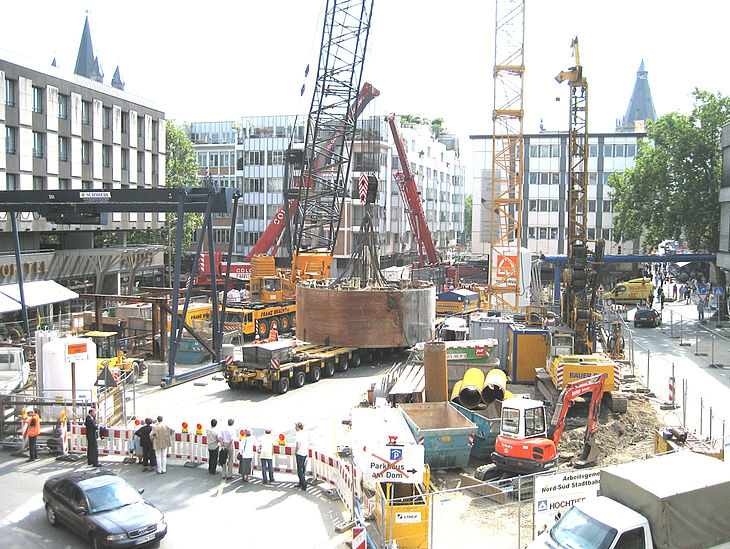 Nord-Süd Stadtbahn Cologne
Going by light rail through downtown Cologne takes a lot of time. The light rail takes a zigzag course and the inner-city tunnel is frequently overloaded. Already in the seventies, plans for a north-south connection are discussed. Planning approval for the tunnel construction was granted in 2002. The new light rail route with a length of four kilometers leads underground from the Hauptbahnhof (central station) via Heumarkt and Philharmonie to the new station Bonner Wall. Along the tunnel route, archaeologically precious formations are underpassed. In the last section, the tracks lead above ground to the station Markstraße.
In total, three Mixshields were employed in Cologne. Along the shorter north section, the slightly smaller TBM "Carmen" (S-314, Ø 6,800mm) bored its way from Breslauer Platz to Kurt-Hackenberg-Platz twice. After the completion of one 260-meter-long section, main TBM components were dismantled and backhauled through the tunnel, while the shield skin remained in the ground.
Along the south section, the TBMs Rosa and Tosca tunnel through sand and gravel towards the Cologne Central Station. The two identical TBMs (S-321, S-322) operate in parallel, each driving 2,700 meters of tunnel. The separation plant and segment handling area were set up in the immediate proximity of the launch shaft at the railway depot Bonntor; which allows for a segment supply and spoil transport by rail in the south section. Tosca completed its 2.7-kilometer-long section on July 12, 2007 after 13 months of tunnelling. The TBM achieves best daily performances of 22.5 meters and best weekly performance rates of 123 meters. "Rosa" arrived shortly after on August 4, 2007.
Die Nord-Süd Stadtbahn Köln (German)