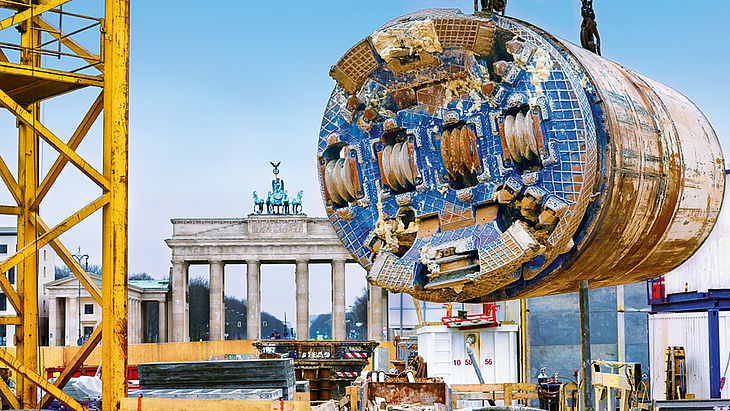 Pipe Arch Brandenburger Tor
The metro system (U-Bahn) is expanding in Berlin. The U55 line connects as an extension of the Line U5 the "Pariser Platz" at the "Brandenburg Tor" and the Parliament Buildings at the Main Station, formerly "Lehrter Bahnhof". The underground construction of the new metro station "Brandenburger Tor" required a protective shield under which a safe excavation would be possible.
The sandy ground had to be frozen forming a protective pipe arch with the length and the cross section of the future metro station. Two AVN1200TC by Herrenknecht drove a total of 30 bore holes with a length of 90 meters each that formed the pipe arch with the steel pipes. At the end of each drive, the machines had to be retracted through the steel pipes to the launch shaft. This porcedure was only possible due to a special folding mechanism, that reduced the cutterhead's diameter.
Then freezing systems were installed in the steel pipes and protected by the frozen mixture of sand and water, the metro station could be excavated. On August 8, 2009 the new U55 and the station "Brandenburger Tor" was put into operation.