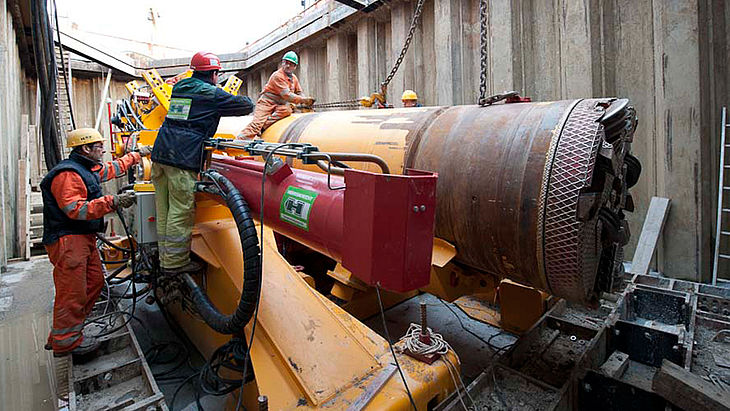 Pipeline Poggio Renatico – Cremona
The Italian gas supply company, Snam Rete Gas S.p.A., aimed to permanently increase the flexibility, capacity and reliability of gas transport in the Po plain by constructing a 150-kilometer-long gas pipeline between Poggio Renatico and Cremona. The new, high-performance pipeline is to replace the more than 50 years old 22-inch gas pipeline between the towns of Cremona and Minerbio. With a number of river crossings to overcome between the regions of Emilia Romagna and Lombardy, the construction company opted for a trenchless microtunnelling method to create as little environmental disruption as possible.
The 400-meter-long crossing of the Scolo Riolo river near Bologna was the first time Herrenknecht's Direct Pipe® method was used in Italy. The prefabricated 48-inch polyethylene pipeline was successfully installed under the river in just 15 days at speeds of up to 3.6 meters per hour. With the pipeline coupled to the AVN machine, the Herrenknecht Pipe Thruster pushed the entire pipeline through the ground with a thrust of 60 tons. The pipeline was installed in one single step, safe and fast.
A total of three more crossings were realized with the Direct Pipe® method for the Pipeline Poggio Renatico - Cremona.