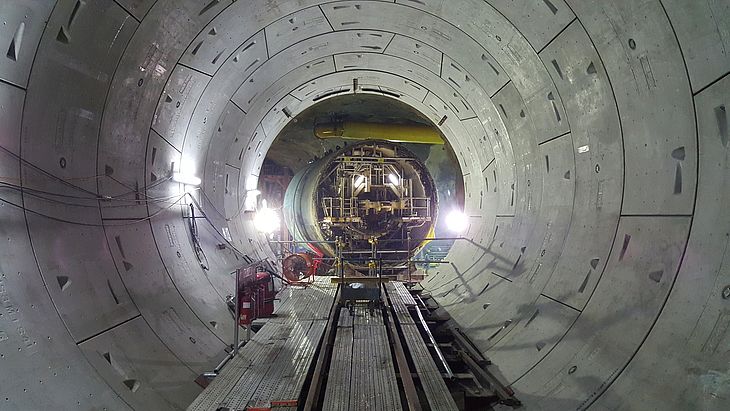 Powergrid Transmission Cable Tunnel
The city-state of Singapore is one of the most progressive and prosperous states in all of Asia. With over 5.5 million inhabitants and a population density of around 8,000 inhabitants per square kilometer, Singapore is currently the third most densely populated country in the world. Over the past 50 years, the population has nearly tripled. To keep up with the city-state's growth, Singapore Power, the country's largest energy supplier, is expanding its underground supply lines.

Singapore prepares for the future
Singapore's existing power grid was laid 3 meters below ground using conventional open-cut construction methods. Sewage and gas lines also run at this depth. At a depth of 12 meters follow underground expressway tunnels, 30 meters below the surface is the subway network and another 10 meters below that the sewage system. To prevent significant hindrances to public life and future-proof Singapore in the energy sector, the new electricity cable tunnels had to be built under these existing infrastructures. For cost-effective and rapid realization, tunnel boring machines (TBMs) were therefore used at depths of up to 60 meters for the construction of 35 kilometers of new tunnels. The two new tunnel lines with an inside diameter of 6 meters run 18.5 kilometers from north to south and 16.5 kilometers from east to west.

Herrenknecht supplied three Mixshields for the north-south route
For the construction of a section of the north-south tunnel, Herrenknecht supplied three Mixshield TBMs with a shield diameter of 6,960 millimeters. The machines were designed and built by Herrenknecht specifically for use in the highly abrasive geology of Singapore, Bukit Timah Granite and the Jurong Formation, at water pressures of between 4 and 6 bar.

Non-stop to success
The first TBM began its drive in the Marymount shaft in June 2014 and excavated its 2,767 meter long tunnel toward Ang Mo Kio in the north. A few months later, in September 2014 and February 2016 respectively, the two other Mixshields started their 2,188 and 2,264 meter long drives from the Pie shaft. All tunnel alignments ran predominantly under public roads. The Mixshields had excellent top performances for the geology of 14 meters per day and over 92 meters per week. On May 14, 2016 the last of the three Herrenknecht TBMs successfully reached the May target shaft, the junction to the east-west tunnel.